"What kind of paints and brushes and blocks do you use?", is a common question I get and a question I invariably ask other artists. We artists love this kind of technical information. For these friends and patrons who would like to know that their investment is protected from the get-go, here is the full declaration.
Paper
140lb cold pressed Arches/Fabriano smooth/rough sheets or blocks.
I rarely use 300lb rough cold pressed Arches paper.
All papers are handmade, 100% cotton rag and pH neutral.
Brushes
I am attached to these implements most of all. In fact revealing the brand and name feels like I am exposing my children to public scrutiny. I happened to come across a squirrel mop at a local art store and on a whim and some suggestion by the friendly shop keeper, I bought it. The best $25 were spent there and then. Winsor and Newton sells a mean squirrel mop but they never seem to be freely available. Local art store is more than happy to order them for me. A size 0 is as good as a standard round #8. Talking about rounds, I own a Winsor & Newton Series 7 round #8 and round #10. Their feel is different from the more slick squirrel mops – the spring is higher and strokes have more character. However, the mops hold a lot more pigment and water reducing the number of times one has to return to the palette.
Pigments
Pigments! Pigments! Artists go nuts. For your oohing and aahing pleasure, let me disclose that I use Winsor & Newton and have recently added Daniel Smith pigments. I do not use ultra mixed pigments – meaning, I do not use Moonlight Purple or Metallic Green. You will see a basic palette consisting of colors you and I know since high school.
Other equipment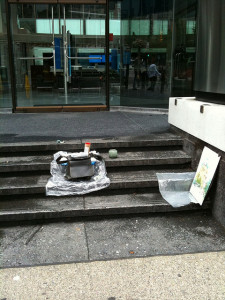 Vancouver, 2010
Plastic sheet so that I can sit down for plein air painting.
Sesame snack, I get hungry when I paint.
Water container
Water bottle
Foldable stool sometimes
Sponge
Pencil
Canson all media spiral bound hard cover book with 90lb paper.
Digital Media
iPadpro with Procreate app are my go to tool combo for digital art. I also use Affinity Design when need arises, along with Pages to make handouts and slick illustration projects.