Are you ready to get away on a creative break and make art with like-minded people? Join Uma Kelkar, Suhita Shirodkar and Nina Khashchina on a creative all-inclusive weekend:  instruction, supplies, lodging and food included when you join us on this retreat. 
Sep 15 – 17, 2023
🎉 Highlights of the 2023 version 🎉
One Workshop session each day

– starting as soon as you arrive on Friday afternoon! In effect, you will have one workshop on Friday, one on Saturday and one on Sunday. 

🖌 🎨 Increased outdoor painting time

with each session incorporating a segment where you work on location.

⛱ Restful afternoons

after lunch on Saturday and Sunday to take advantage of the wonderful Asilomar grounds available to us. 

Experimental Art Sessions after dinner on Friday and Saturday, open to non-participants as well. With wine 🍷 and non-alcoholic🥤beverages, 📚 sketchbook sharing and 🎶 music.

All workshop supplies are included in the price again, and you will get

a

take home kit with materials for all three parts of the workshop

, enabling you to experiment and grow all the skills you tasted at the workshop. 

🔖A

workshop handout

 to take home so you don't have to write down all the notes at once.

A private chat group where we can post updates, answer questions, exchange tips and results of work and stay in touch before and after the workshop. 💬 This chat will commence a month before the workshop.
BOOK your spot at a fraction of ticket price with a non-refundable deposit. Remaining payment due March 1, 2023
Pay Deposit
🐦 If you rather buy full ticket now and avail of Early Bird Pricing, scroll on down! Prices increase June 1.
🍒 Cherry on top: You want to sign up you and your buddy at once? That will get you a total discount of $200 on your total payment! Use coupon code JYWS59BM when you make payment. You will also get an email on March 1 with coupon code in it if you paid deposit for 2 people.
Coupons and Early Bird pricing expire June 1.
Deck of Textures is a two-day on-location, in-person experience which emphasizes finding joy in the process of making. Each workshop attendee will engage in short nature walks to find inspiration in nature and then use found objects/photographs to inform the guided explorations in workshop sessions through the day. Our media will be diverse, ranging from watercolor, ink, crayons to charcoal. Some of our work will be individually made and some collaboratively. Emphasis will be on experimentation and demonstrations will include techniques in mark-making, creating textures, experimental printmaking and collage among others.
Your inspiration will be our breathtaking location – Asilomar on Pacific Coast with your choice of motifs ranging from representational to abstract. We will be within walking distance from the beach. The workshop will be held in a spacious, heated, enclosed yet ventilated room.
What are people saying of Deck of Textures?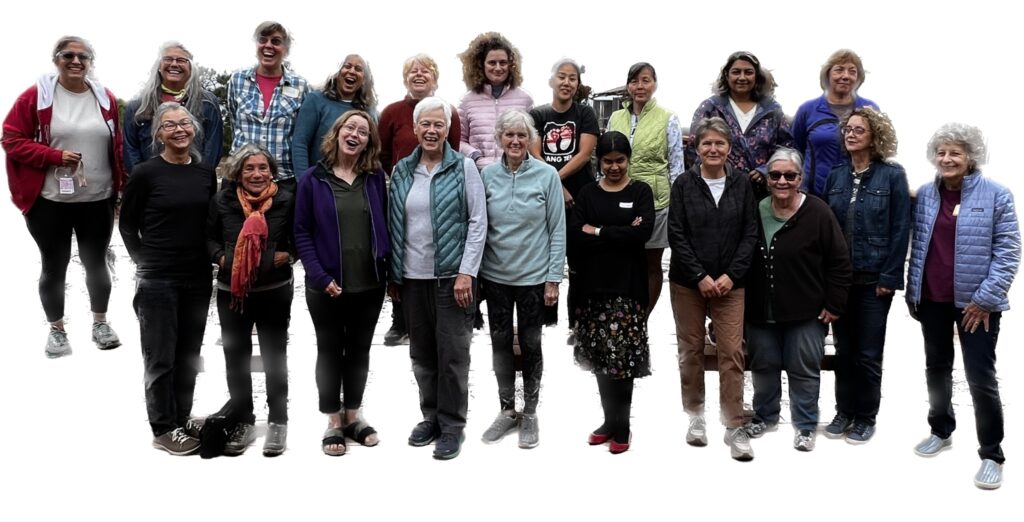 "Returning home with permission to play."

"Yoga of Strokes made me realize that I bring an expectation-free self to my knitting that focuses me on the joy of the process and this same joy can be brought to my sketchbook. The dots and dashes from Suhita's class? That's how I knit!"

"Loved the camaraderie of the 3 instructors and variety of art materials we experimented with."

"Excellent workshop. Can't wait to be back next year!"
Single Occupancy room
Your booking includes workshop fees, supplies, meals, room, welcome reception, take-home kit and handout.
Double Occupancy rooms
Your booking includes workshop fees, supplies, meals, shared room with 2 beds, welcome reception, take-home kit and handout. You will be paired with another attendee of same gender.
Single Occupancy room + 1 non-participating guest
Your booking includes workshop fees, supplies, your meals, take-home kit, handout, shared room with the guest and meal for the non-participating guest & welcome reception for both of you.
Don't want to remember to pay another date? Want to pay in full? Take Early Bird Pricing below, no deposit needed in that case! In addition, use coupon code JYWS59BM if you sign up for 2 people. One single credit card transaction will purchase and pay for 2 tickets.