Truth: All the types of brushes (as far as shape, handle length, purpose) have been around for years. What's new is in the synthetic hair material. A conditioned purist, I was skeptical of man-made hair because the W&N Series 7 was always way better than anything synthetic round. Then, the Da Vinci's Casaneo was introduced to me in Chicago, 2017. Never left the house for painting without it after using it once. So, what's the magic?
Let's talk about why a mop first.
A round brush allows for filling a shape as well as for a fine line. However, owing to how the handle is shaped and where the bulk of the handle's weight is, it's harder to hold it farther back when compared to a mop.
When holding a round brush back, I find it tends to fall out of my grasp. A mop's handle is front loaded and shorter. Yet, when it feels like it is falling, it has a controlled fall. Just like a run is a controlled fall and faster than a walk, I feel the mop is a faster version of a round brush along with increased paint capacity/belly.

-Uma Kelkar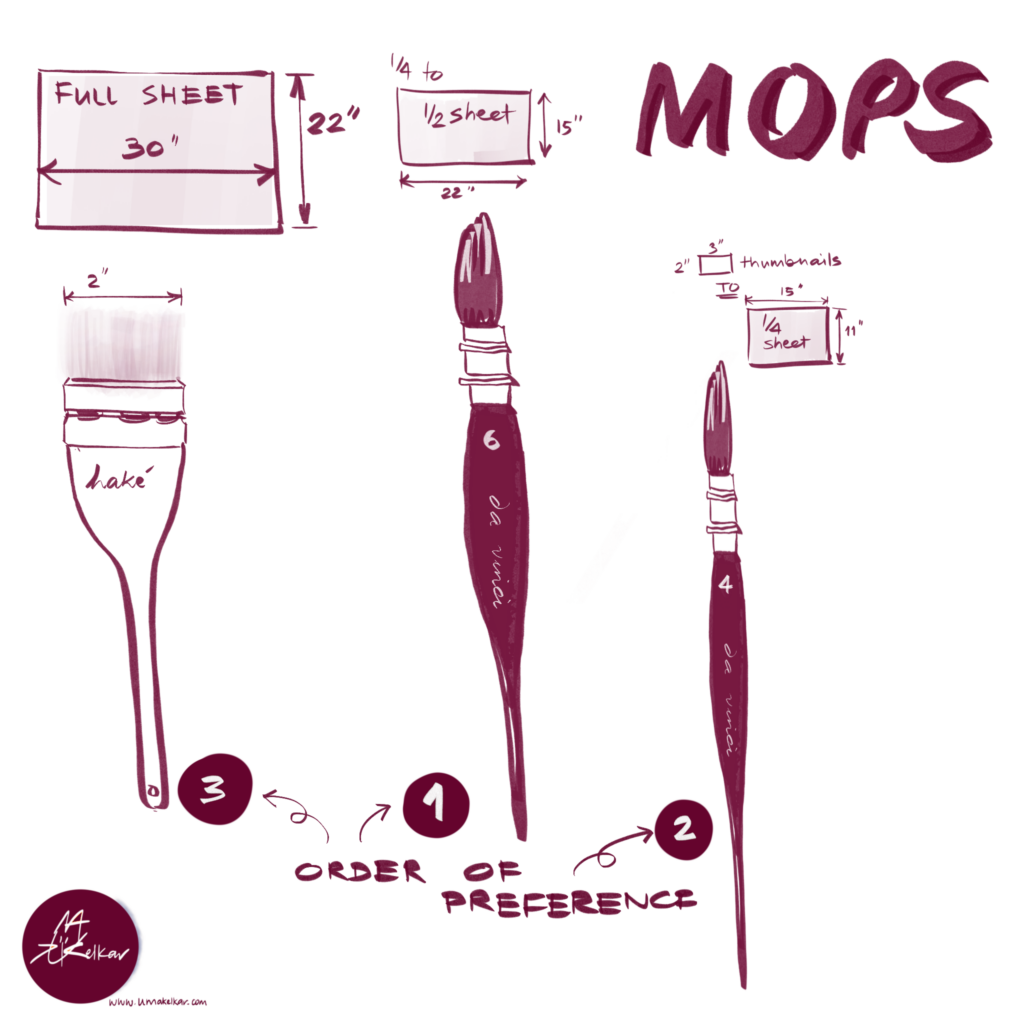 The Casaneo's synthetic blend is flexible but with a spine. Technically, people call that a snap back of a brush – meaning, one can press a wet brush on paper and it will spring back to its straight up position immediately after the pressure is lifted. I am also able to hold thicker paint in the brush. This is vital to me. I like to paint with least number of touches to the paper. Therefore, I raise the values of colors by using thicker pigments. Some brushes hold so much water inside that they do not allow mixed pigment to get inside the belly. When one presses down such a brush on paper, it releases the internal water, causing a lower valued pigment onto the paper requiring more number of glazes before desired value is achieved. It's maddening.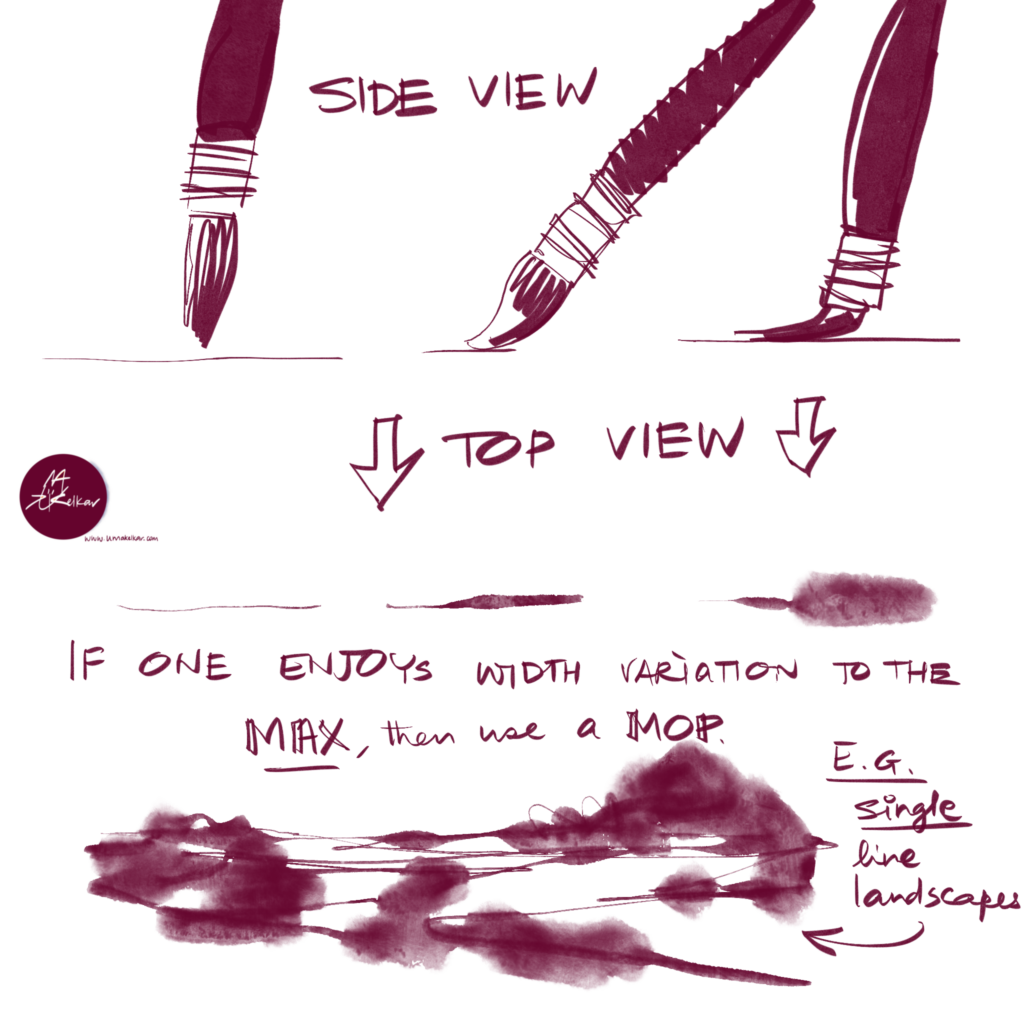 Here are some other brushes I've used. This is my personal commentary; therefore, this is not a trend. This is 1 datapoint. The preferred one in a list is in bold.
FORMAT
Tip, size1, [size 2..,] Brand Name, Model, Hair type, Cost
ROUND
Round #6, 10, 12 : Escoda Perla Synthetic, $$
Round #6, 10, 12 : W&N, Series 7, Kolinsky Sable, $$$
Round #2, 6, 12 : Princeton, Synthetic, $

FLAT
Flat, ½ inch, 1 inch, 2 inch, 4 inch : Princeton, Synthetic, $$
Flat, 2 inch, Hake, Goat, $
MOP
Mop, #6: Raphael, Squirrel Hair, $$
Mop, #1: W&N, $$
Mop, #6, #10: Alvaro Castagnet, Squirrel Hair, $$
Mop, #2, #4, #6, #14: Da Vinci, Synthetic Hair(Casaneo) Series 498, $$, Links below cover the size range as well as a travel set. Da Vinci's website calls it a French Quill, I call it a mop.
Recently, Da Vinci also came up with a longer bodied quill called the Series 490. I reviewed it with their CEO Hermann Meyer.

If you are unable to source from local stores and are going to buy from Amazon, please use following affiliate links.
Asian Brushes: variable sizes, Goat, Horse, Raccoon, $ to $$
Since I cannot read the sizes, I estimate the diameter of the body is akin to round size #10, #16
Rest of my material list is here – LINK along with my minimum plein air setup – LINK.
PAPER
Saunders Waterford is my latest love. Full Sheets is the way to go!
TRIPOD et al
I've retrofitted a photography tripod to an easel. If it's easier to buy the readymade option, I've noticed En Plein Air Pro setup as the most popular. Link below. Quick release plates for connecting your painting surface/foam board to a photography tripod or tripod based easel. Tripod shelves make it easier to rest brushes and tools. Not necessary but a nice to have.
PALETTE
Suited for studio painting. A robust stool may make you look heavy. Bite the bullet and ignore looks. Comfortable seat == long painting time. Towel to wet and put around your neck to stay cool when painting in hot places. Trick I learnt from a local artist.
Uma's book on digital sketching en plein air or anywhere really!