Day 0, Sept 29
Flying from San Francisco to Boston, bus to South Station, rental car to Bar Harbor, reached at 12:15am. Long day which began at 5 am. Thankfully, Poppy was already in the Airbnb and had bought basic provisions for breakfast and lunch meats and was there to open the house for us. The drive was dark – no street lights at all and lots of tolls, some of which didn't take cash either.
Day 1 , Sept 30
Otter's point for a morning sketch and paint, followed by a small hike to Penabscot Peak and then drive up to Cadillac Mountain. You have to make a reservation to drive up to Cadillac Mountain, $6/car and then wait out the sunset. This is the first point in USA on the East Coast that sees the sunrise. Not wanting to bother ourselves with sunrise, we opted to get sunset tickets. A quick dinner at Testa where I did paint only in white gouache (on a pre-colored inky page), ice-cream and home exhausted.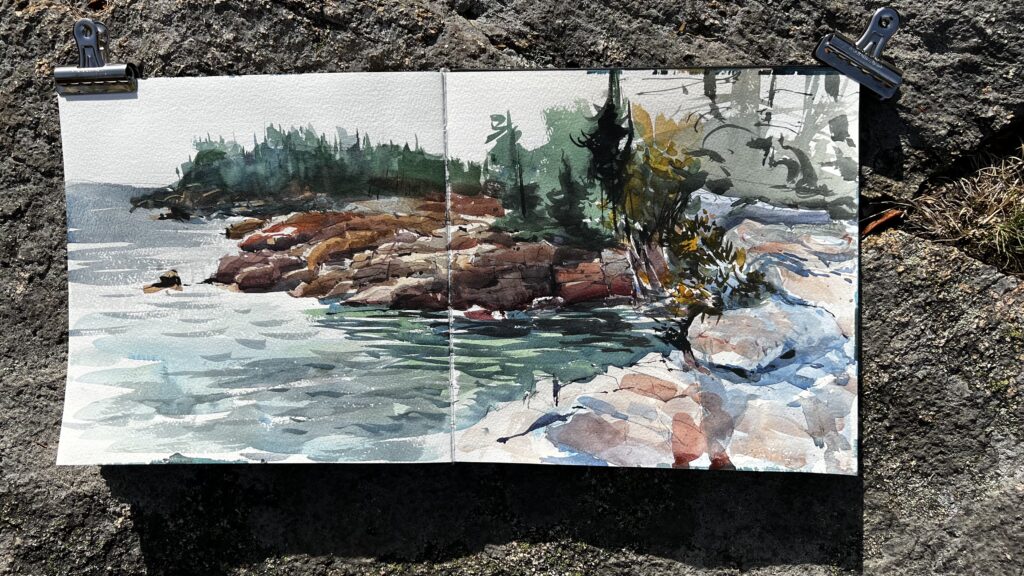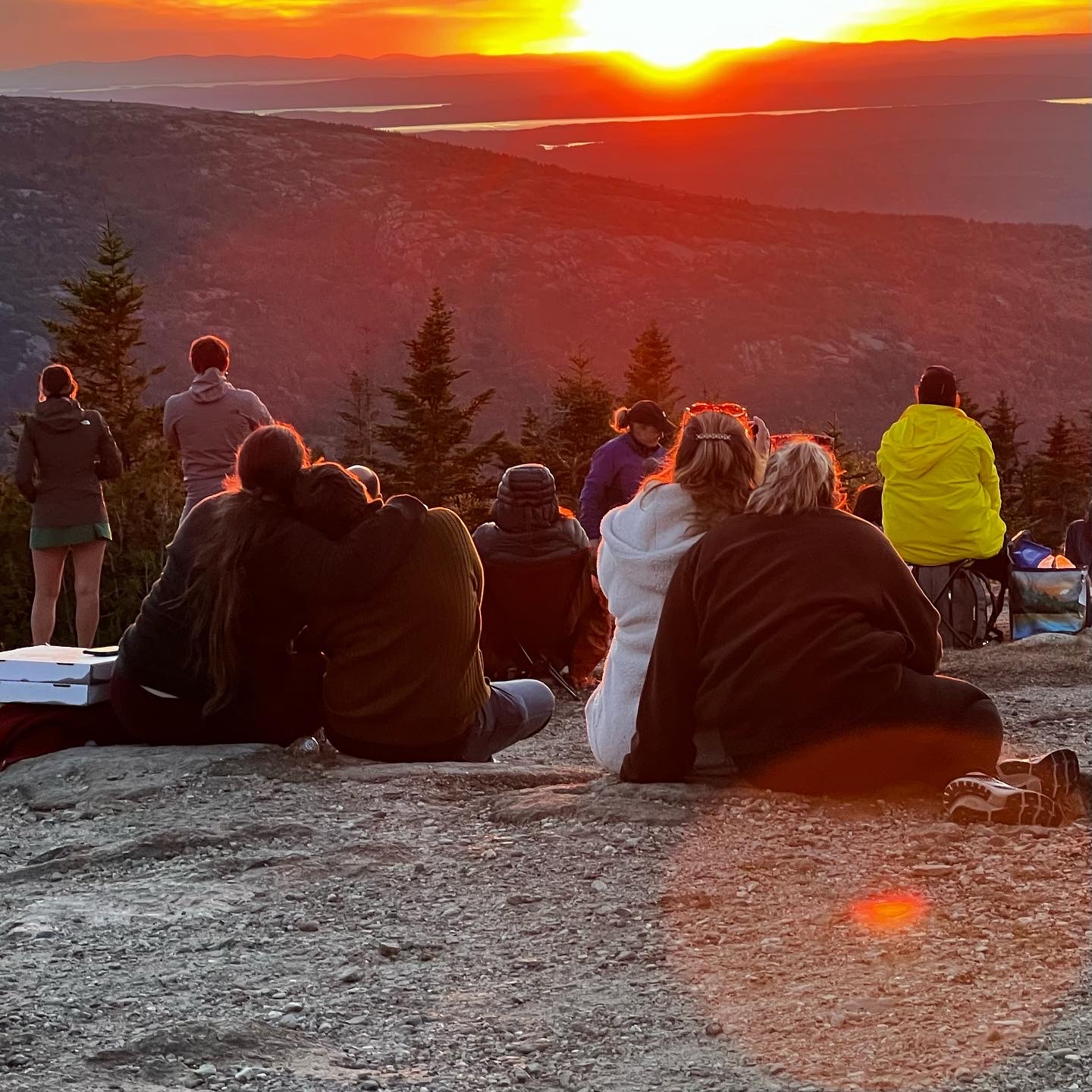 Day 2, Oct 1
Visit to River Pond near outside Baxter State Park in orange hats so that hunters don't mistake us for game. The colors on the way to River Pond raised our spirits. They were even better in Baxter State Park but since I was driving, evidence of such color doesn't exist. Poppy made lovely lunch sandwiches and I was introduced to Moxie during the hike. The soil is peat like and bouncy. Final parts of drive to hike (where Poppy also forgot her walking stick) were on gravel road and did gives us a pause whether to move ahead with our plans since cell coverage was non-existent, we didn't know if the rental car had extra tire in it and if the chassis was too low for the small boulders on the pathway. We saw a few hitchhikers and I mused over their courage. Poppy and Aditi, decided to hike to Elbow Lake – I joined them for 5 minutes and realized I needed to paint in the parking lot to maximize painting time – while I distracted mosquitoes for them. Maine has giant mosquitoes and they hunt in pairs. Ugh.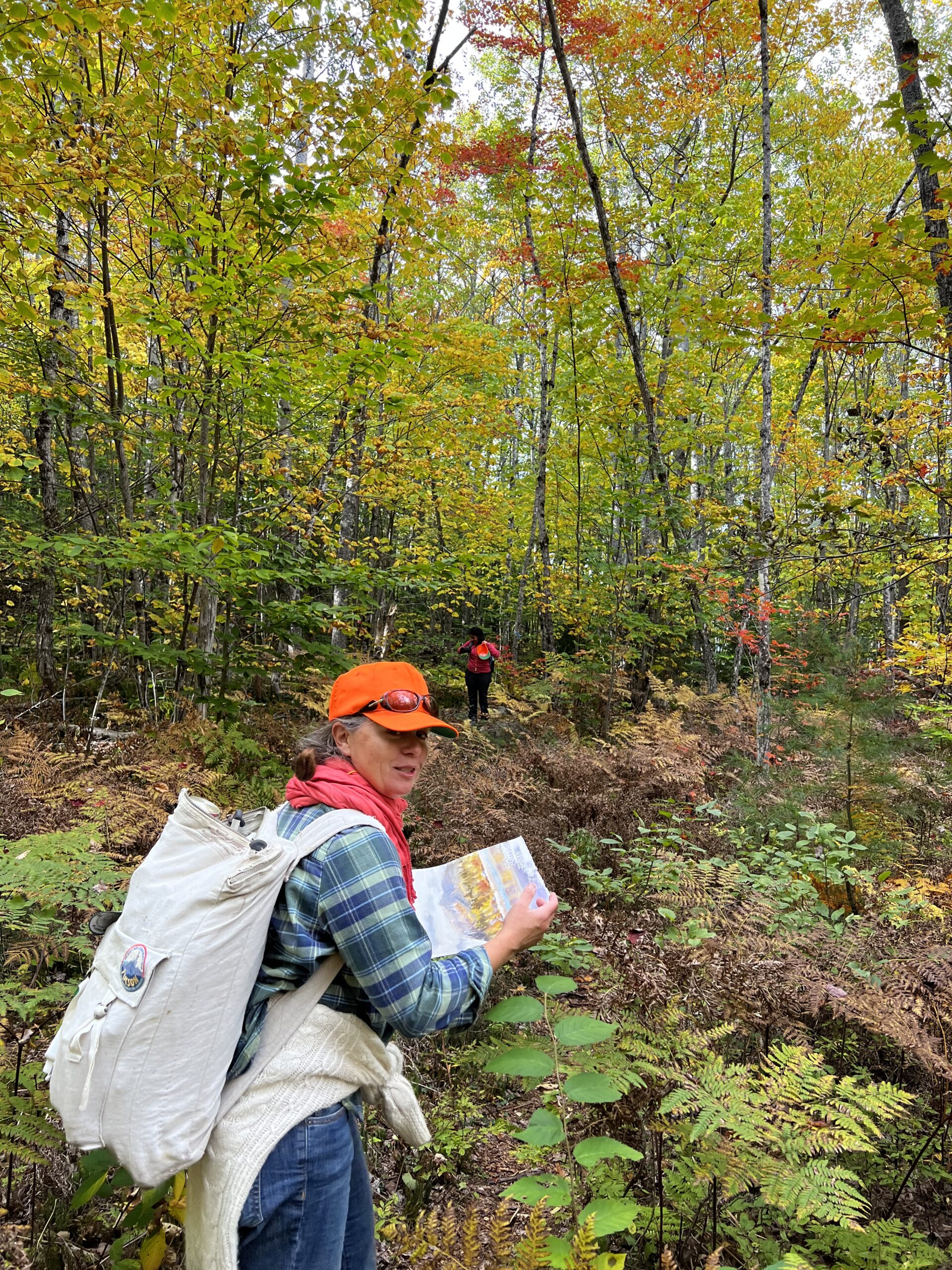 Day 3, Oct 2
The day of the grumpies. Painting at Sandy Beach (horrible painting there, by the way), then, driving around Mount Desert Island to get lobster roll ($30, at Archie's Lobster food truck. I wasn't impressed – partly because $30 makes me want some degree of fancy in my food). After that let down, we went to the smallest light house I've ever seen at Southwest Harbor – where the line to see it was long. The length looked even more ridiculous when we actually saw what the light house really was and that people had been duped into wanting to see a magnified version of dollhouse-scale lighthouse. Taking our grumpy selves to Seawall for a gentle hike where the mosquitoes drank me, was a great end to the day – the light was great, the colors nice, the landscapes very peaceful. I sketched with ballpoint pen. We did some serious groceries at Hannaford's which involved buying eggs, salad, cookies and wine for the company. Seawall and retail therapy seemed to have uplifted my mood. Dinner was Poppy's home desiccated and boat ready meal – pasta topped with a salad by me. I painted 2x half-sheets at the dining table to make up for terrible painting in the morning. Aditi and Poppy talked and talked. Both apparently introverts.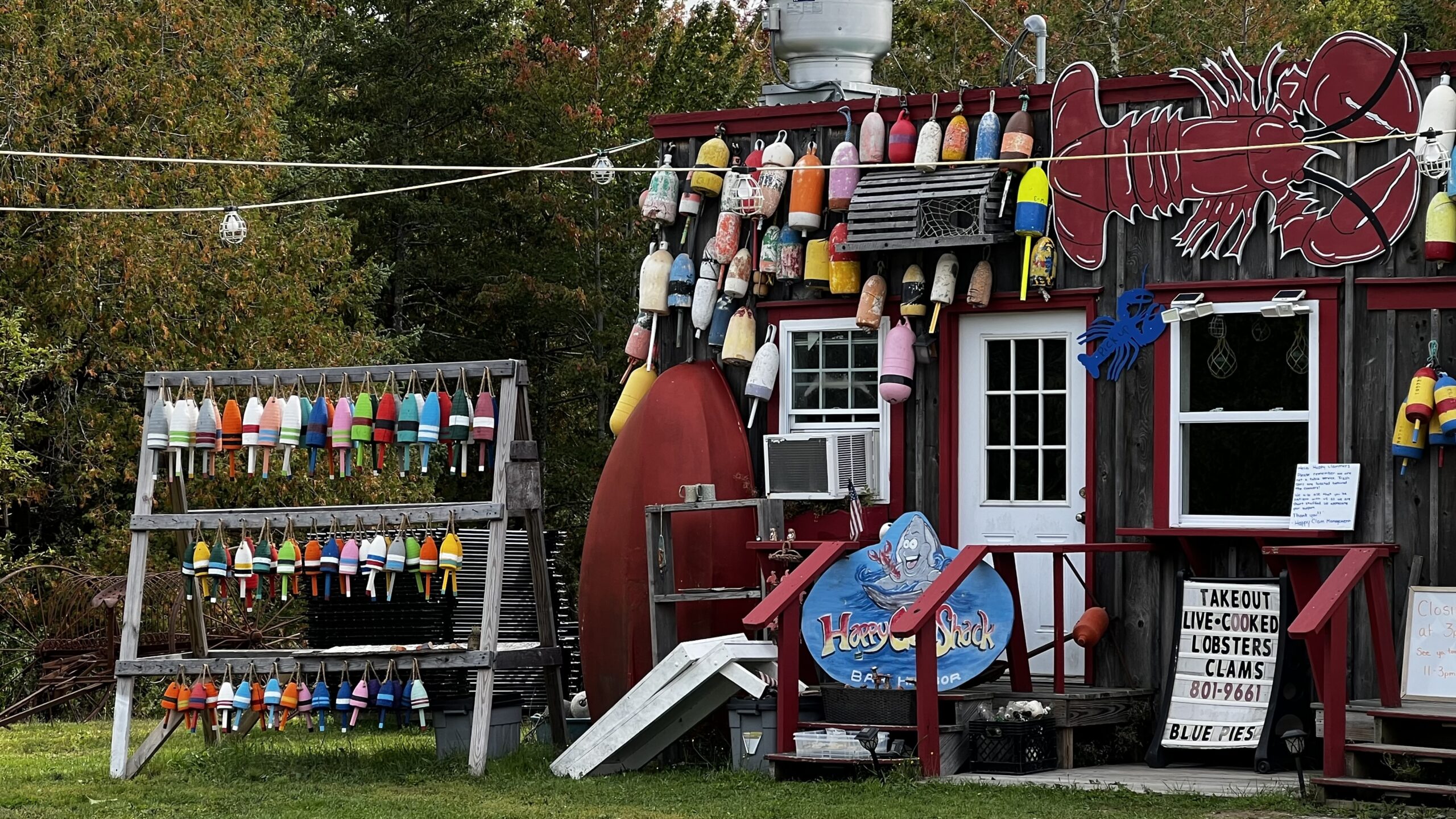 Day 4, Oct 3
After a breakfast of scrambled eggs, we set off for Rockland, Rockport and Camden. Poppy drove us on the most scenic way and sprinkled information as we traveled. The fall colors were better and the story book houses – very New England – scenes were around every nook and cranny. Poppy Balser shows in Camden Art Gallery right off the wharf – which we could visit. It was a joy to see her work and have her with us. She had also taken us to the Page Gallery run and founded by artist Colin Page.That gallery was airy, light filled and replete with art that brought me happiness.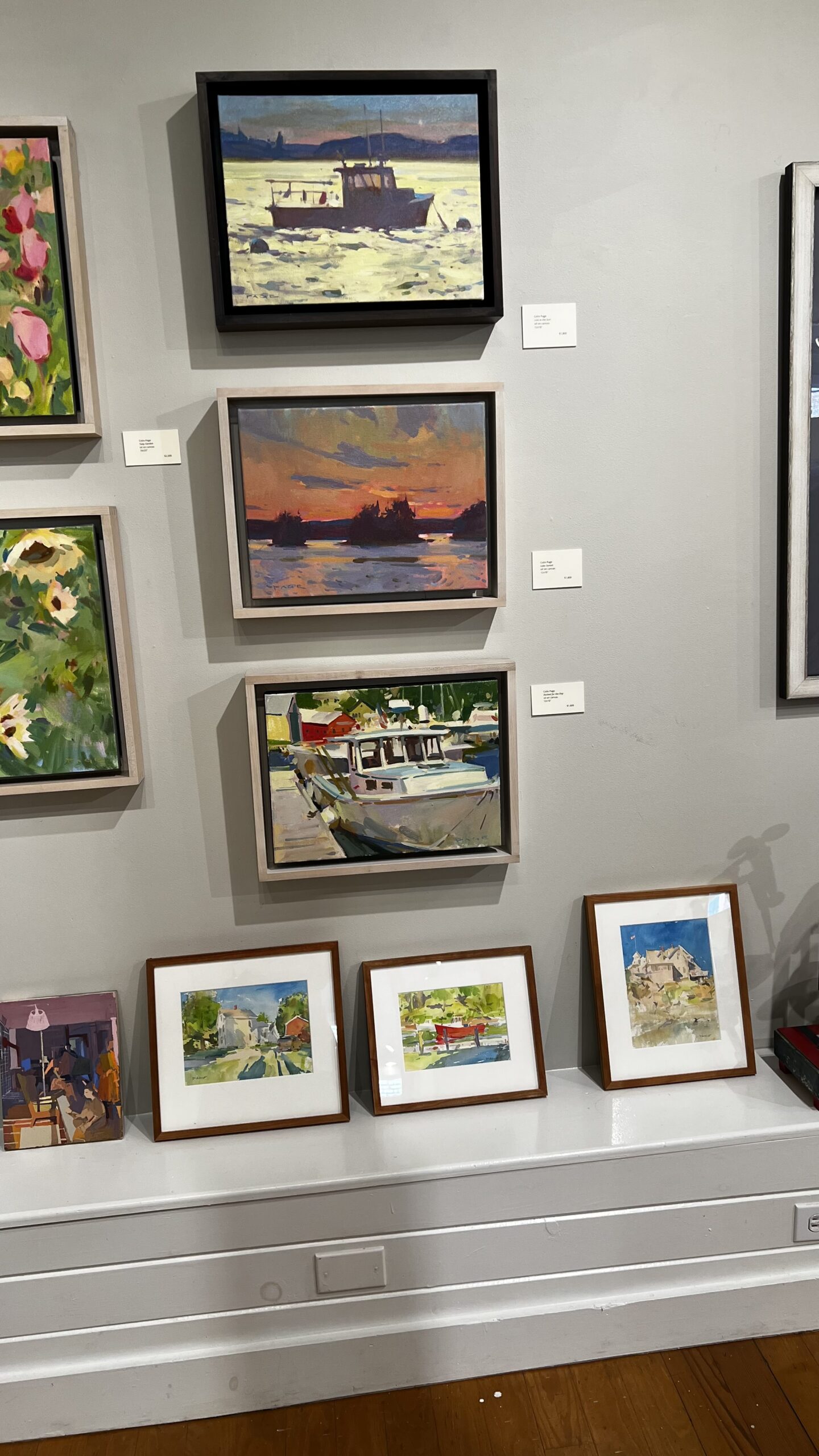 On the way to Camden, we had also stopped by Farnsworth museum where both Andrew Wyeth (AW) and N.C. Wyeth show. Unfortunately, due to staff shortages, N.C.Wyeth's work wasn't available to see. There were 2 wings of AW's work. One wing was underwhelming and the other impressive. The lesser impressive work was done when he was 21 years old. Learning that stopped my grumbling. I intend to move my practice towards work I find evocative and that's what was in the second wing – work that is technically sound and gutsy – because it makes a painting of one rock, for example, trying to make the blackest black with watercolor which is very hard, consequently, not hiding the many layers of glazes added to get that effect and causing the paper to warp. AW was painting until a year before his death and some of the drawing choices could be relegated to age or to deliberate ways of pointing at imminent demise. Example, there was a boat that was rushing towards a shore and compositionally was exiting the frame. An odd choice for any studied artist. The bottom floor of the main building of Farnsworth – apart from the two Fairfield Porter paintings, and two Homers (one being a gouache on tinted paper) – was a waste. Some people make it into museums and I feel they shouldn't be if I am paying and investing time. I would love to pay if I like the presentation. Even movies have trailers that give us a choice of entering a theatre before signing up for the entire movie length.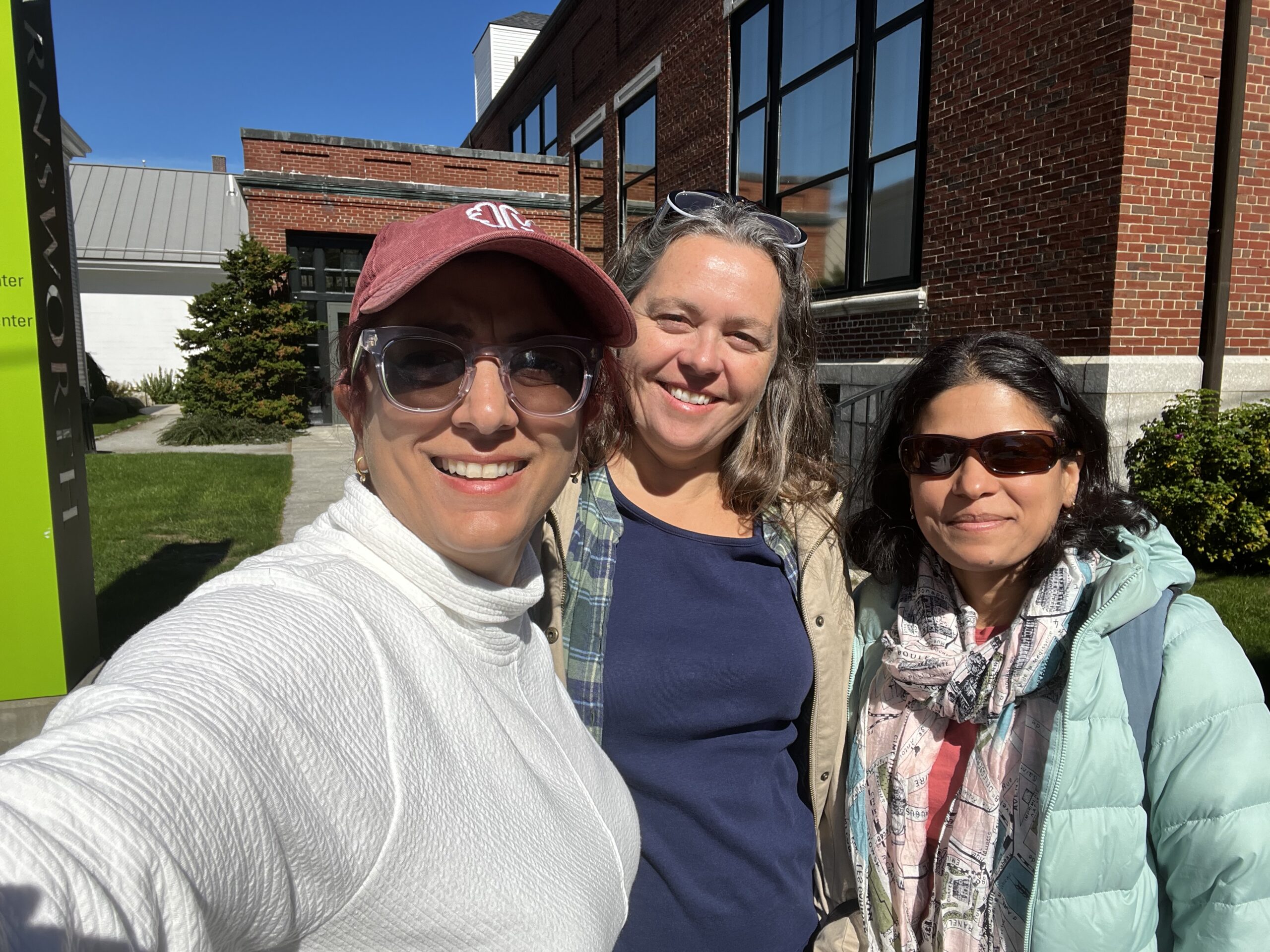 Poppy drove from Canada to MDI – therefore she had very kindly brought me her easel and oil painting setup along with panel. We gave ourselves 40 minutes before we headed back as she was going to drive back to Canada that night. She is a real trooper and an awesome human being. I met her at PACE (Plein Air Convention and Expo, Santa Fe, NM, May 2022) as a fellow faculty member and meeting her was the highlight of that trip.
Day 5, Oct 4
Long drive from Bar Harbor –> Portland –> Boston, fly out to SFO.
What would I do differently next time?
Would wait for fall color report to be live and then take either a red-eye or save up to travel fast to a regional airport.