CHOKING – When painting becomes a spectator sport
Painting is traditionally a private task where most of the background work for a particular piece happens inside the artist's brain or in the myriad practice one puts into achieving technical skills before the painting is even begun. With plein air competitions, however, a new challenge has been born. Concert goers often see a highly choreographed, highly practiced show of dance and singing. From plays, to concerts, to making power point presentations, every other spectator show gets a chance to rehearse before showing the final product. Plein air competitions ask artists to come to a venue with their medium and to paint what's in front of them among the elements/local people and present their finished and framed paintings for enjoyment. It's akin to asking musicians to bring their own instruments at a new location and giving them a new mood and no scale to compose in the next 4 hours and to perform it as they are composing it. 
The annual Benicia paintout held last weekend was my second plein air competition with Plein Air Gallery. And somewhere along the way this year, as last, I choked. We all choke. We all choke when we think that the result is going to define us. I want to address the choking that we do unto ourselves and what worked for me to get out of the chokehold. First, some beliefs that I have – 
Excellence is a habit. Therefore, excellence is practiced.
The best outcome is when the mind is not too relaxed but not too wound up either. It needs to be aware yet happy.
I made one value sketch and two rough paintings before I started to paint the final piece. This gave me time to see the composition, gave me confidence that the palette was going to work, gave me time to choose bits of composition I liked, allowed me to be sloppy and took off the pressure of being right in the first attempt. It told me that it would be okay if I moved the background factories over to the right, it was okay to have a large cloud loom over the entire scene.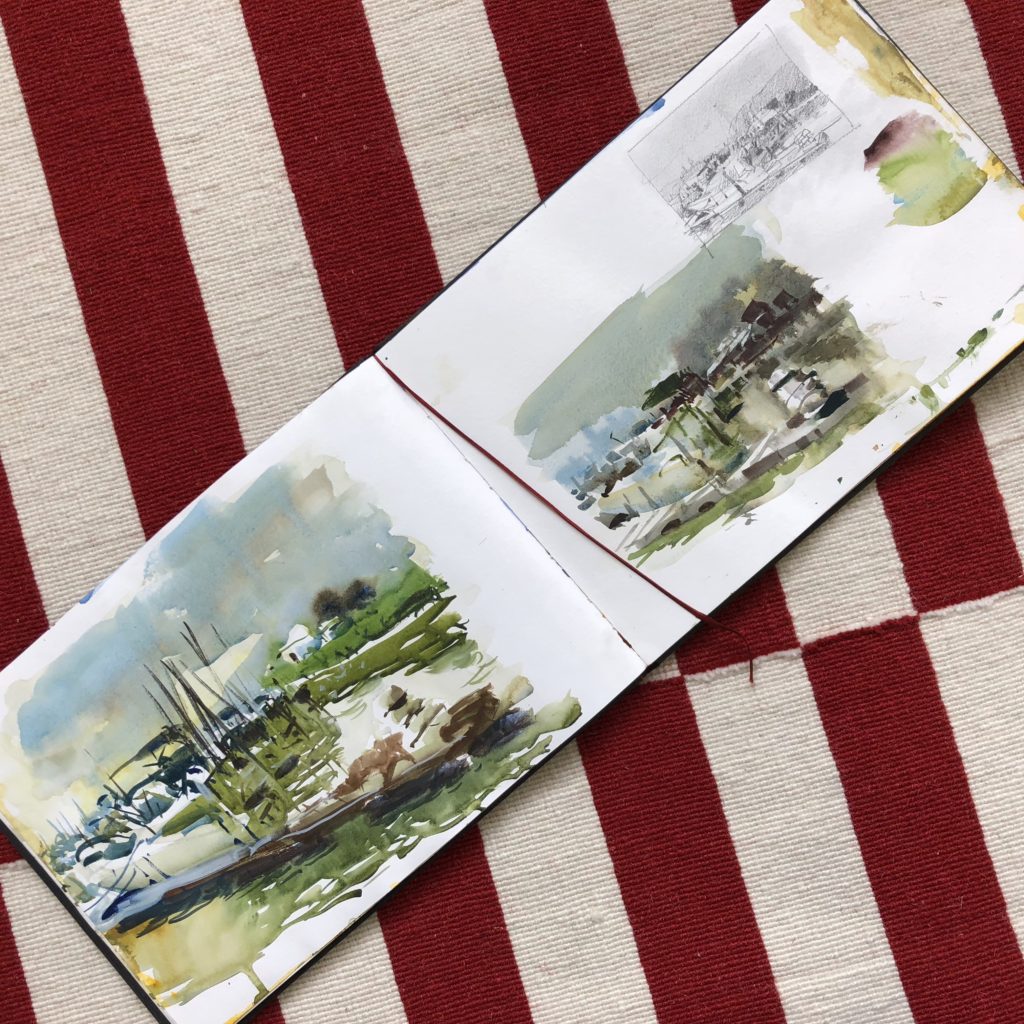 Even though I started off at an easy starting point, the painting started tight. In my mind, I had to take care of all the shortfalls in the studies. (Who puts the onus on us?) In fact, the painting started looking disjointed with pieces of low and low-mid value shapes floating around. There seemed to be no spine in the artist at this time. 
Getting out of the chokehold
I took a moment to breathe – to see what I was feeling. I was feeling too pretentious painting on the easel. So, I set aside the easel and settled on the floor. Two, I was feeling like I was not enjoying the process. I was not checking with my gut, "what does the picture need?". Instead, I was being a painterly scribe and that was deadly dull. So, I changed my attitude. I had had about 1.5 hours of touching the medium, so the hand was warmed up. My eyesight was settled so it was time to be confident in the technical skills and muscle memory that had been learned over the years. Point being, you and I get to chose to trust our skills. Do you second guess yourself? Me too! After this point onwards, it was all about – what does the picture need? What does this scene say to me? Boat after boat after boat after boat is not what I want to scribe. I want to scribe the heaviness of the soft clouds, the contrast between peaceful bay but busy standing boats, I want to show the masts piercing the sky yet being calm. The thick olive green colored water you see in the front was a thick yellow paint plopped with a big mop on a purple under stroke. That was muscle memory telling me that purple and yellow would make a mossy green. The vegetation in the far back came about in one stroke of a Japanese Hake Brush. Because that's what the painting need, a confident suggestion of a tree. In the next 30 minutes, the painting was done, framed and earned the second place ribbon. 
Owning it
Yet, between the framing and showing, I choked once more. I could see the bits and pieces from earlier indecision show through. I did not sign my painting as it hung for judging. I did not own it. The painting was worth the price I put it up for sale. I'd like to think it would've sold had I owned it as my own. If I don't want to choke next time, I will have to own up to where I fell short so that I can work on it. And once I own up, I will practice until excellence is routine.