The Rotary Club of Los Altos launched a 2-in-1 community public art event and fundraiser event, titled, 'The BEARS Project'. Artists could choose either the size of bear they worked on or choose from the themes for the bear. Knowing me, you can guess that I chose the biggest bear there was for grabs, ensured patron-artist engagement (patron who bought the biggest bear) and secured a team mate who would help with the painting and designing the bear. Yes, one has to secure a team mate if working with someone who like me who is annoyingly punctilious. Check out Alka's work. She is my team-mate and sister-in-crime.
Delivery
Once the artist agreement was wrapped up, we waited for the canvas to arrive. The fiberglass sculptures come all the way from Nebraska on a flat bed truck. The sculptor himself drives them over in a weeklong drive dropping off the animals along the way, from LA to Oregon. It's a sight to be seen. When the flat bed pulled into the neighborhood, suburban women poured out onto the streets. Dazzled by the spectacle of colossal sculptures and assumption of an even more colossal problem with Uma for wanting that big a statue in her tiny backyard! If people were in bathrobes, they came out in bathrobes. Coffee was offered for the weary driver. I mean it was 8am in the morning for drop off so I conclude that it was the sculptures that were responsible for bringing out the maternal instinct on our street. I was not offered coffee. Neighbors, if you are reading this, you know!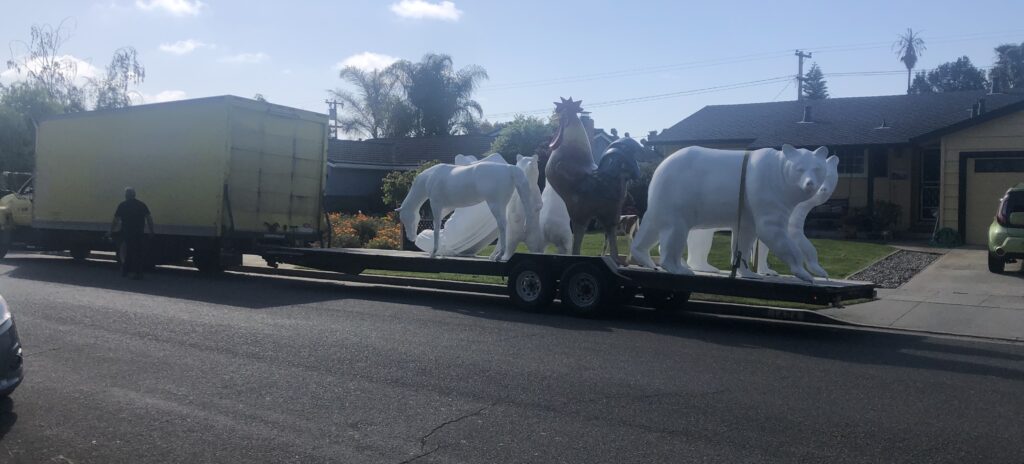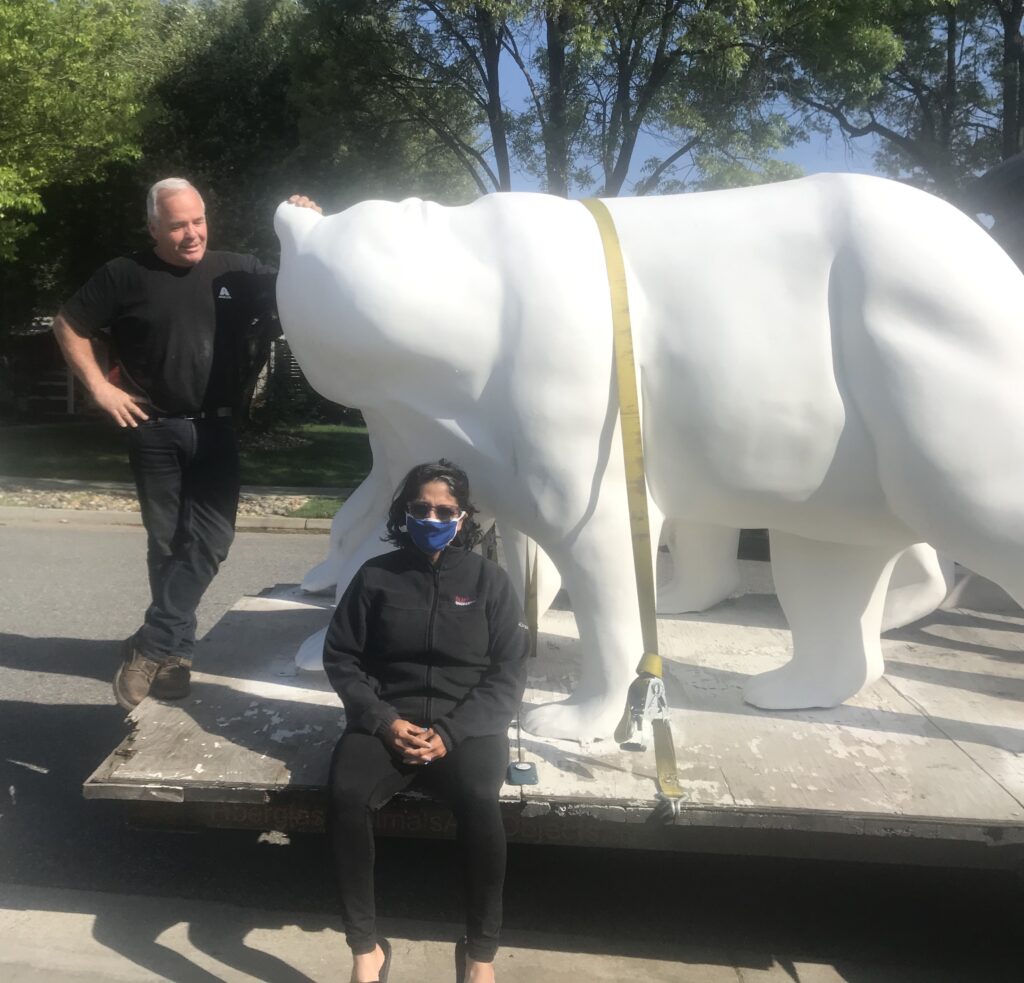 How does a brute this size get moved anywhere in the yard? The width of the sculptures are under 32″ so the sculptures can enter through standard doors. With the front feet bolted and stabilized on one slat and the rear feet on a second slat, we raised the hollow fiberglass sculpture over furniture dollys and rolled him through my bamboos.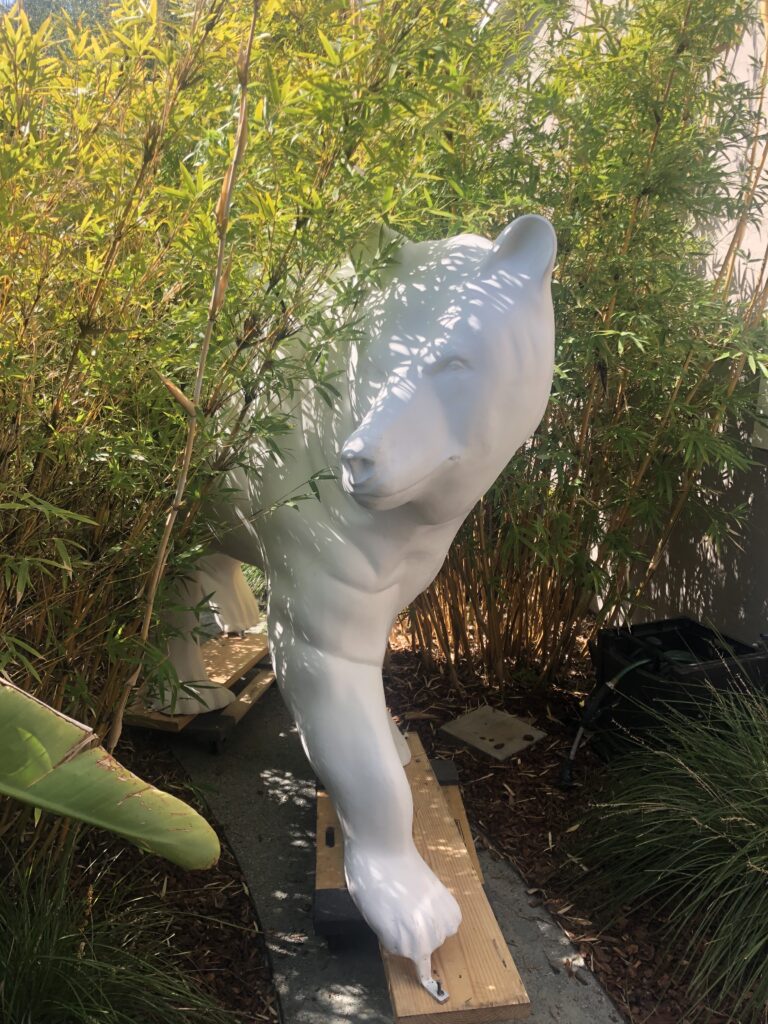 Update 1
It took us 2 weeks to get our design approved. Our charter was: bright colors and stylized in Eyvind Earle style – an animation background designer. If you saw Sleeping Beauty in your childhood (Gen X only need apply), you've seen Earle's work. Protecting deck, ordering pigments, generating invoices, hosting show off and social-distanced-touch-the-bear happened simultaneously with early execution.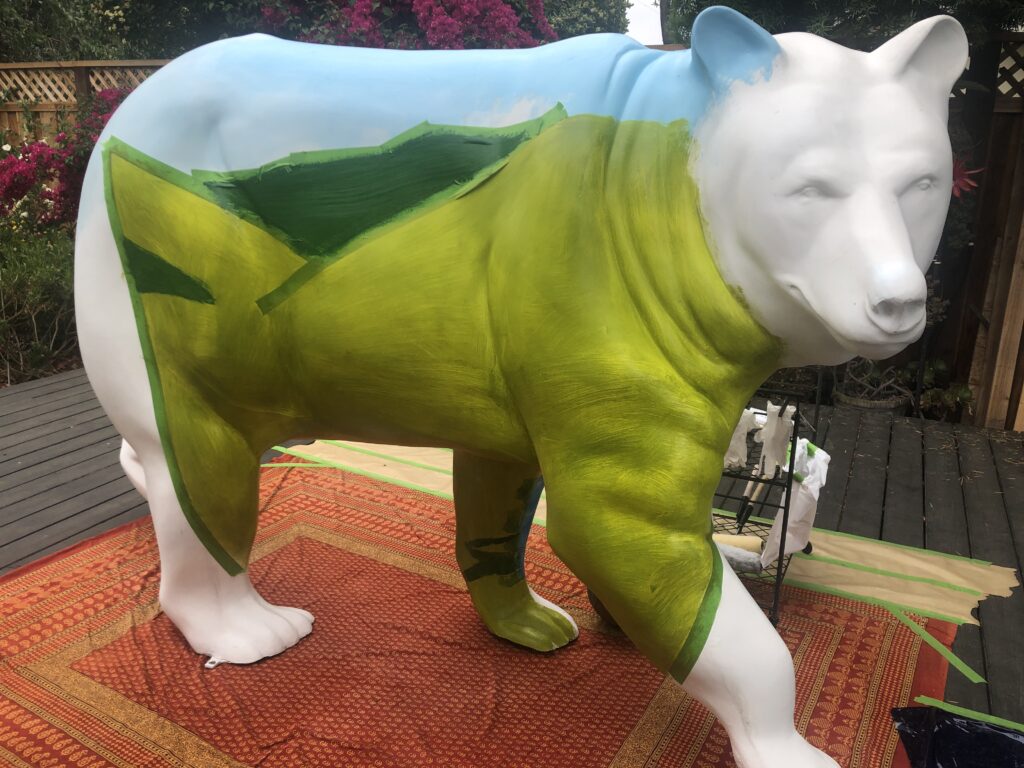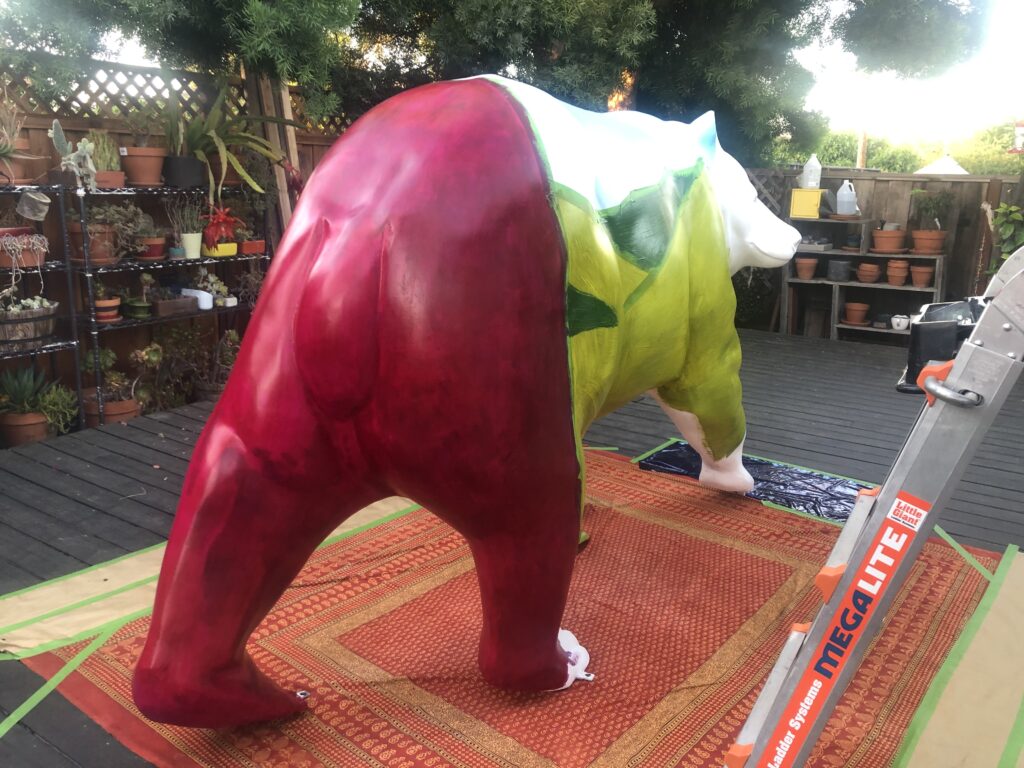 Update 2
Overcast weekends actually propelled our speeds. Buying slightly better brushes sped up application. Lower temperatures meant that the paints didn't dry up as fast. We kept the sculpture out of shade so that we see clean colors and so that we reduce chances of bird droppings. Which has translated to daily dusting of the sculpture and is thus not a bad trade-off.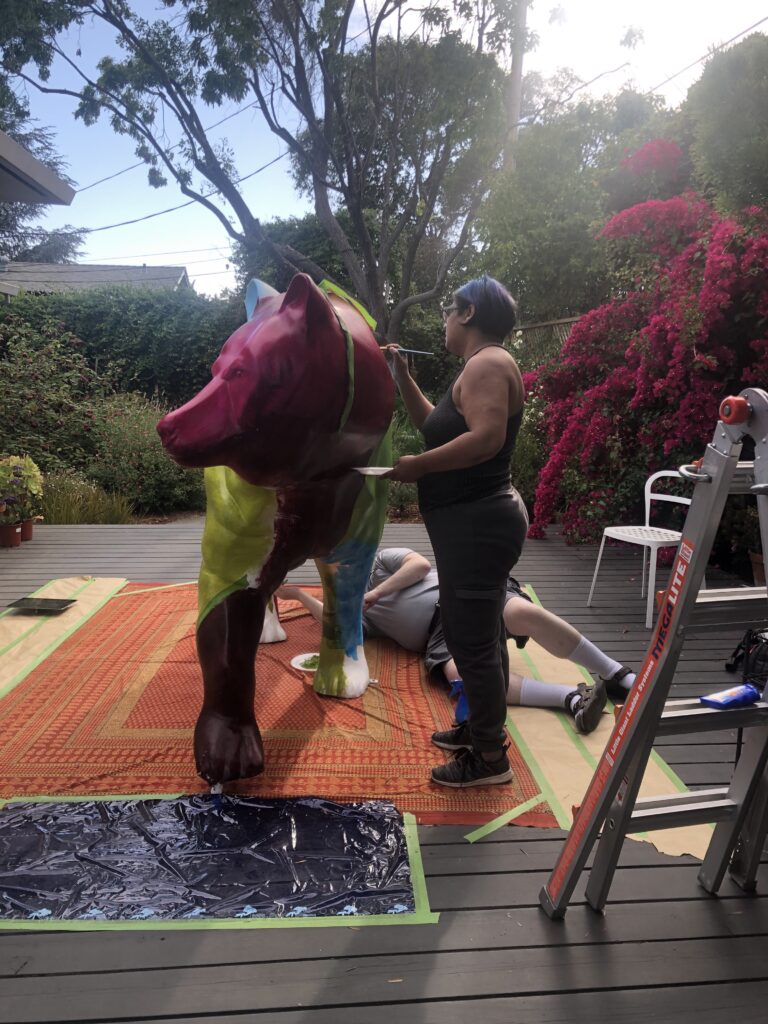 Update 3
Ever thought that a colorful sculpture mere feet away would be something you get used to having dinner with? Me neither. But guess what! I've gotten used to Callie. How is the yard going to look without this centerpiece soon?
Memorial Day Weekend and lower temperatures last week gave us the opportunity to get more painting done.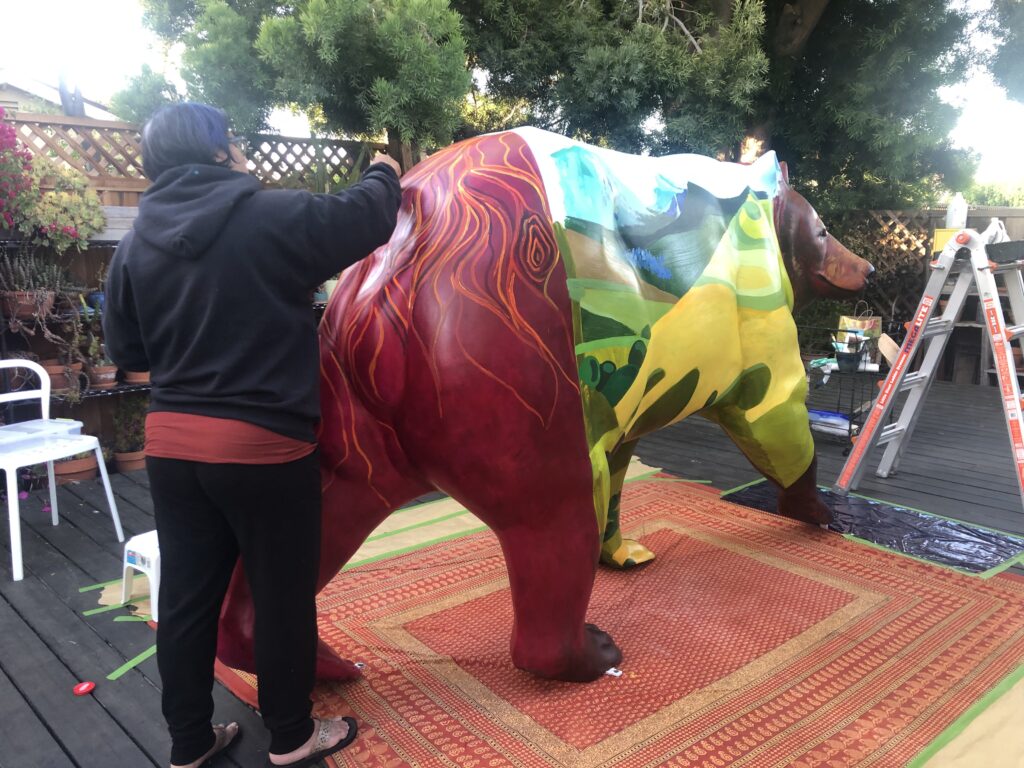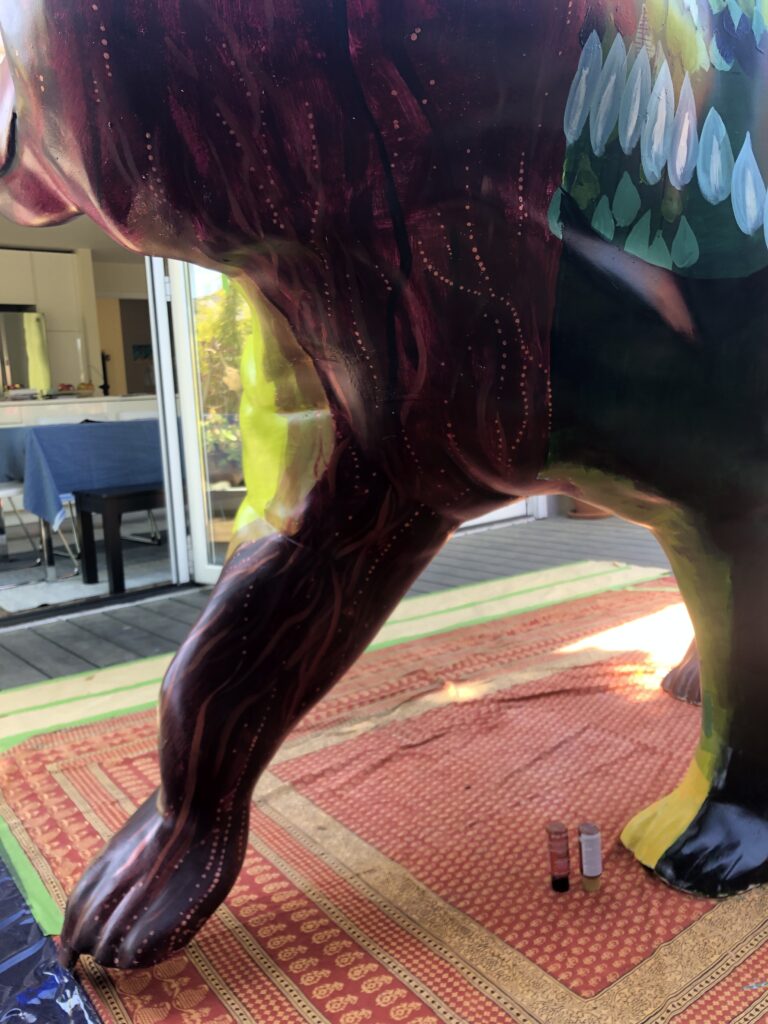 There are going to be at least 3 design choices that should intrigue someone who watches this sculpture over the long term. All deliberate choices. As mysteries that keep the story going on long after the sculpture has left our workshop.
Update 4
Compositionally, Callie is 95% done. Yes, that's what Debby named the sculpture. The name is a play on the word Cali, a contraction of California and emphasizes the connection to the vivid iconography. Callie also has a phonetic connection to the female goddess, Kali who embodies the nurturing as well as the ruthless power of a mother and a protector. As feminist artist/engineer/entrepreneur (Uma) and financial analyst/artist (Alka) pair, despite the chance aspect of this naming, we do pride in showing off stories that can tie meaning to the work we do.
In relation to Lord Shiva (Hindu mythology, the destroyer), she [Kali] appears to play the opposite role from that of Parvati. Parvati calms Shiva, counterbalancing his antisocial or destructive tendencies; she brings him within the sphere of domesticity and with her soft glances urges him to moderate the destructive aspects of his tandava dance. Kali is Shiva's "wife" as it were, provoking him and encouraging him in his mad, antisocial, disruptive habits. It is never Kali who tames Shiva, but Shiva who must calm Kali.

Excerpt from article on https://en.wikipedia.org/wiki/Kali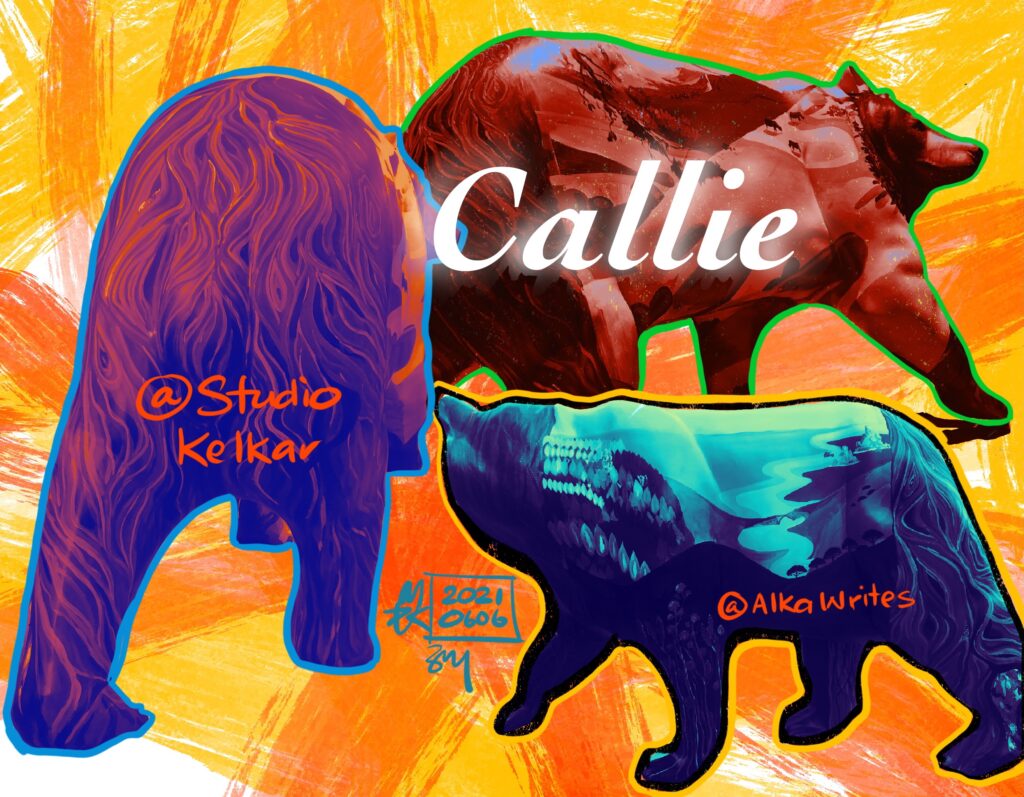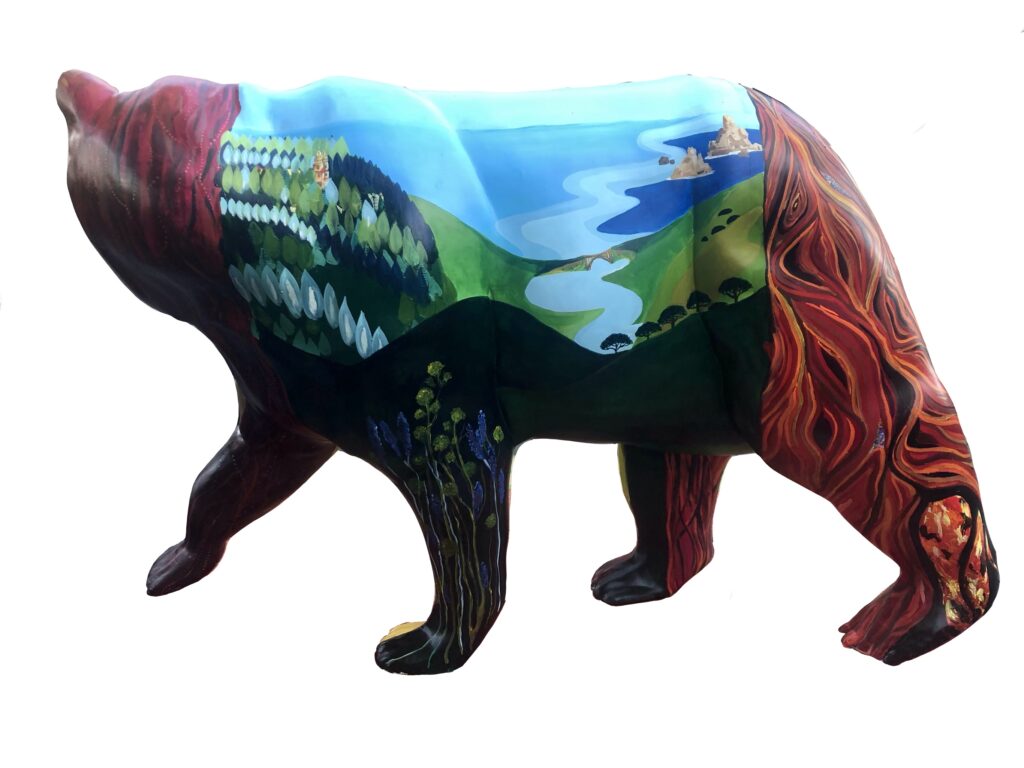 The lush Westward view invites the Pacific ocean. The graphic nature on top left – with patterns of tree illustrations and shimmering stipples in the redwood give way to garden and bugs. If you visit Callie up close, you will see lichen and a monarch butterfly flitting in the scene.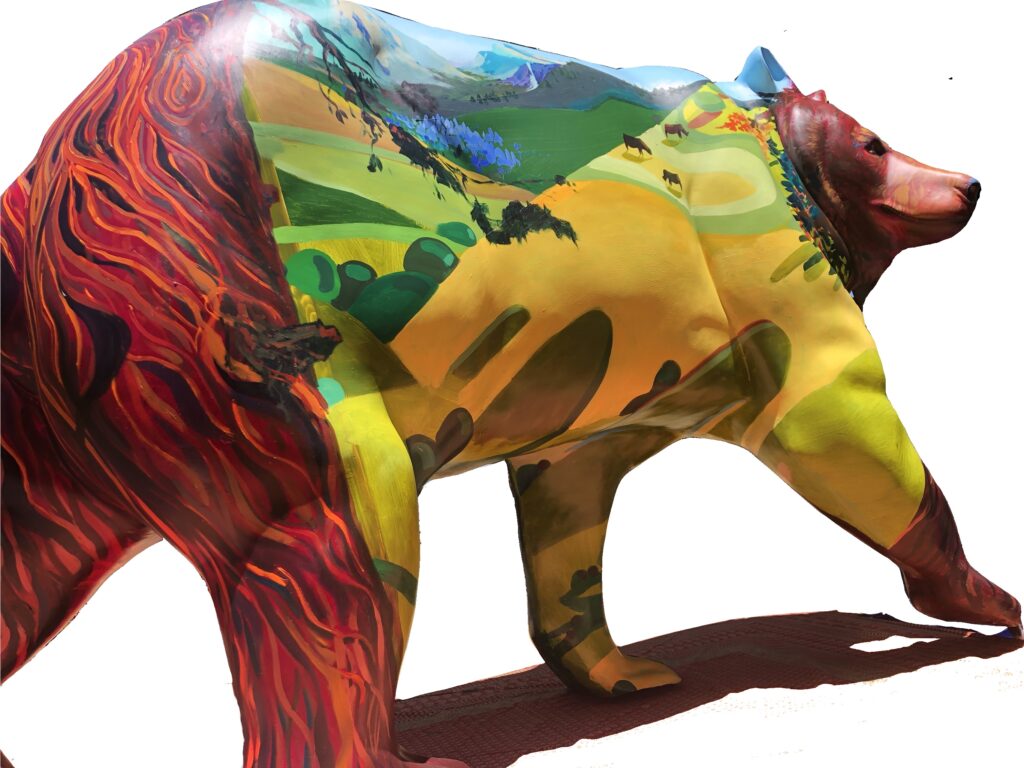 The bright Eastward view gives you far sight! We move from Yosemite to rolling hills of Fremont sprinkled with seasonal blooms of Lupine and California Poppies.
Comparing our VISION and EXECUTION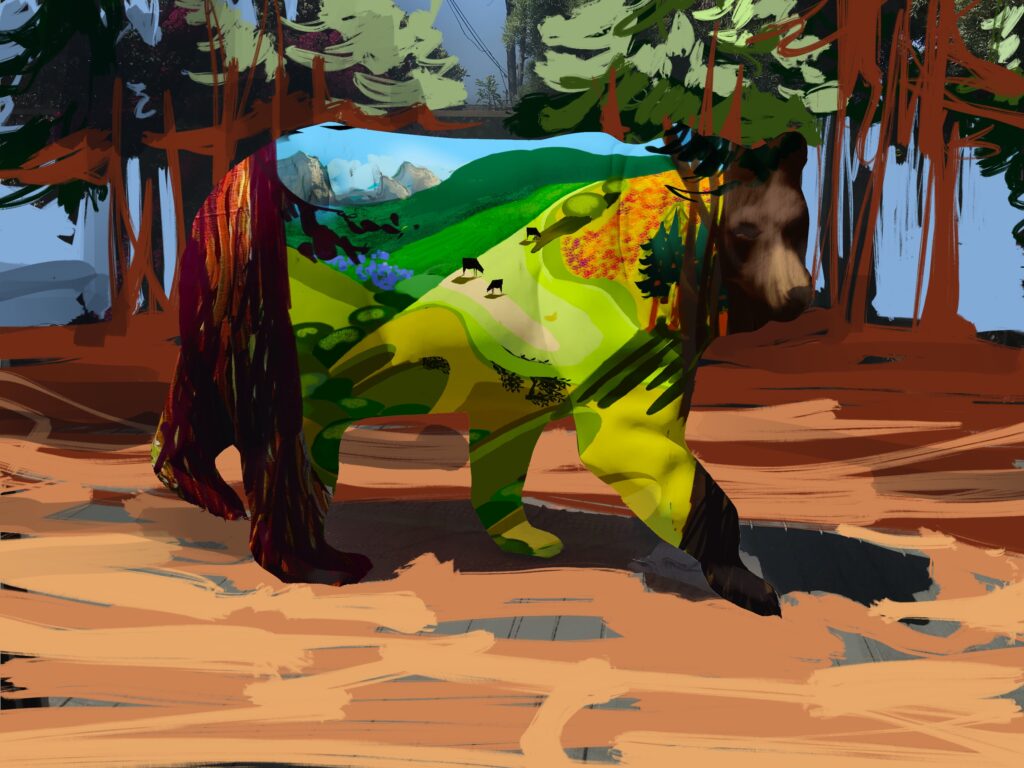 Here's how we looked while painting it. Music, breeze, life was good. That's George painting the under side and Uma painting Yosemite with eyes almost completely closed.
Update 5
It's time for UV protection varnish before Callie leaves my backyard and goes into Debby's! On the Westward side, we introduced a monarch butterfly and a hummingbird to round out the details. More work was done in painting the underside, the patches of lichen, removing strip marks, blending in colors between the 2 sides.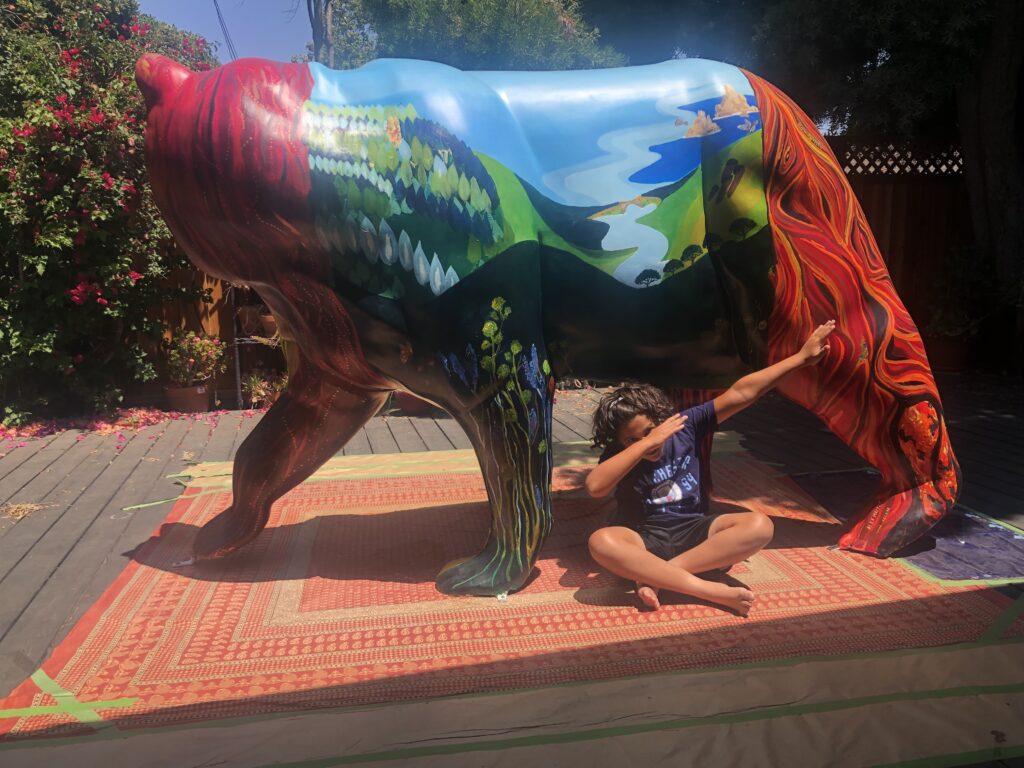 Credits
Aarav Kelkar – the dabbing kid – the applause manager, encourager and general audience
Arin Hardikar – the stippling kid -noticer of details
George Herbert – painting support staff
Debby Meredith – encourager in chief
Alka Writes – designer, painter, general levity, bursts of energy purveyor, analog experiments ninja
Uma Kelkar – designer, painter, docs manager, ms. hawk-eye, digital sketching ninja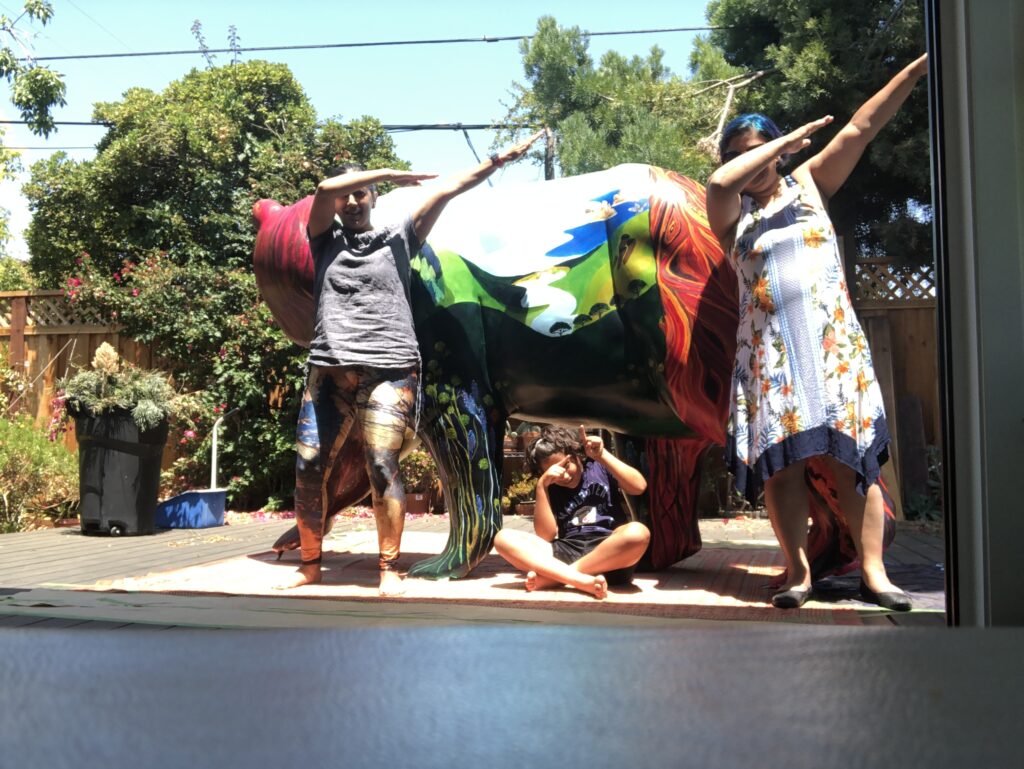 FAQ
Interested in having a sculpture installed in your garden?


– We offer turnkey projects. Serious inquiries with idea about size of sculpture, rudimentary vision, address and approximate timeline, email us. You will not be disappointed by our professionalism, quality of execution and clear communication. * Standard project budgets >$15,000

What was your inspiration for the design?


– Apart from the style of a particular artist(Eyvind Earle), we wanted to embed the story of California into our design. We will reveal our initial designs and final designs once we are done with execution at our end.

What are the things you are learning along the way?


– Painting in the morning then allowing the paint to dry off during the day and then painting later in the evening ensures painting during cool temperatures and gives a longer runway to the paints as far as handling goes. We are using Golden Heavy Body Acrylics and utility brushes.
– Medium Body paints as were suggested by Rotary spokesperson were out of stock when we began the project. Yes, we bought acrylic medium to soften the paint.

What are artists' goals?


– To aid communities by donating our time, effort and skills.
– Uma and Alka are operating at 15% of their usual working rate

inclusive of painting materials.

What are Rotary of Los Altos' goals?


– Raise money to grant to local non-profits
– Celebrate the creativity of professional artists
– Have fun while building community camaraderie
– Gather locally for a "Hibernation is Over" Party to announce Bear Auction winners