This is a story of sketching at the George Floyd Square for 5 days and of reporting what I saw and heard. For the sake of understanding the point of view, it should be known that the writer of the blog is neither Black nor White. She does not identify with color, but she has experienced privilege and disadvantage in varying circumstances. Her Indian descent presents a complex and biased lens of understanding of the modern caste-ism.

LINK: Why We're Capitalizing Black
LINK: Recognizing Race in Language: Why We Capitalize "Black" and "White"
---
I hailed a cab from Minneapolis International Airport and within minutes, the taxi driver alerted me that we were in the George Floyd Square as we bypassed the roadblocks to arrive at my bed and breakfast. I had not wanted my visit to the square to be so shockingly touristy.
A study of the city showed me that Bryant neighborhood where I was residing (one of the Southern most parts of the city), is a transitional neighborhood with mixed demographics as it lies between the White neighborhoods on its West side and the Black neighborhoods falling on its East side. Southside and Northside Black neighborhoods identify separately from each other as well.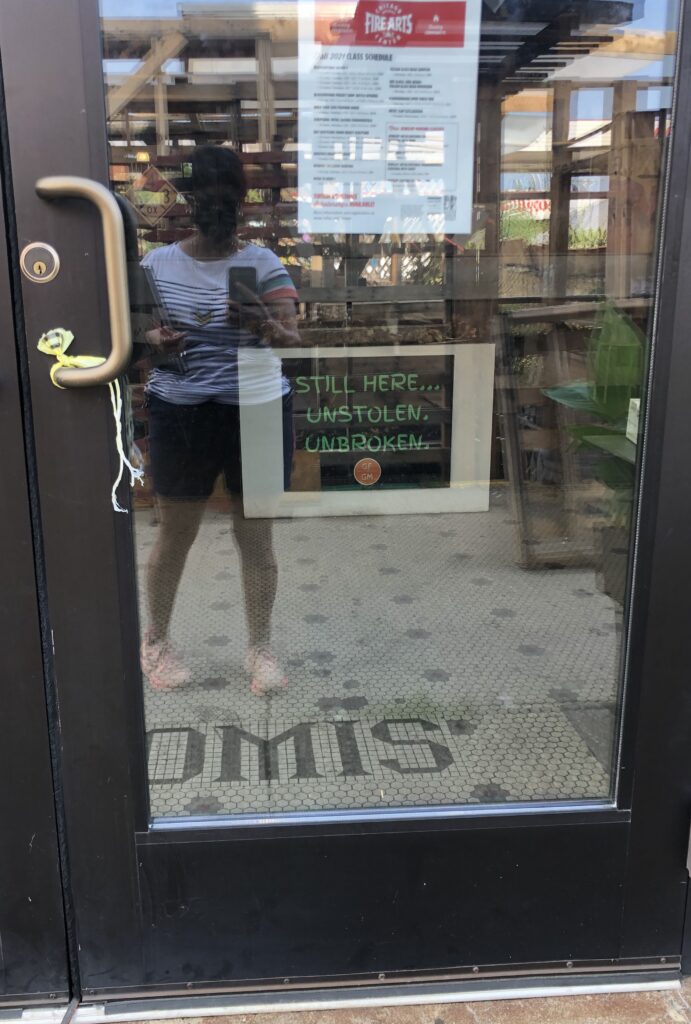 The George Floyd Square (GFS) is a memorial that has been built from the outpouring of grief and solidarity with the Black Lives Matter (BLM) movement on the site of the murder of Mr. Floyd. The businesses around it, at the crossroads of Chicago Ave. and 38th St.- the now famous Cup Foods, the Chicago Avenue Fire Arts Center, and the Asian takeout restaurant Dragon Wok across from it are still standing and working. When you walk to the square, you see tall sculptures of the BLM fist welded in metal at each of the four entries into the square. Speedway gas station does not function anymore but has become a refuge with a piano, lots of small plots of flowering shrubs, signs, bottles of sanitizer and has been renamed People's Way. What was the former gas station's pay booth has been covered with planks and planks of colorful art and historical review of injustices to Black people. There is a small shed that's colorfully done up and that which opens to reveal a library when its caretaker, Mr. Jay comes to work. Behind the library is another set of potted plants, many of which are dying. Across from the former Speedway gas station and besides the actual memorial is a mishmash of crates and plexiglass – someone has built a greenhouse, quickly. A stream of people walks in and pays homage. People who I would right away assume as ones not interested in social causes, pull over, park, and walk around in silence. Signs foretell visitors that they are entering a sacred place, but people know that instinctively.
The location is raw. You enter the square and are drawn to the site of the murder automatically. There's a blue body scrawled on the asphalt with the words, 'I can't breathe, I can't breathe mama' under it. I shuddered. I could feel the hair on my skin standing on end. I wanted to be away from a murder site and didn't know – in the moment – how being a voyeur could be respectful. We urbansketchers deem sketching in various locations higher over taking camera shots and moving on. We believe somewhere that involving ourselves in other person's reality – however curated that reality is – is more wholesome. That the act of sitting down with curiosity transmits your curiosity to people in the environment and the stories come to you. I felt conflict with this notion when I entered the GF Square.
Sunday, August 22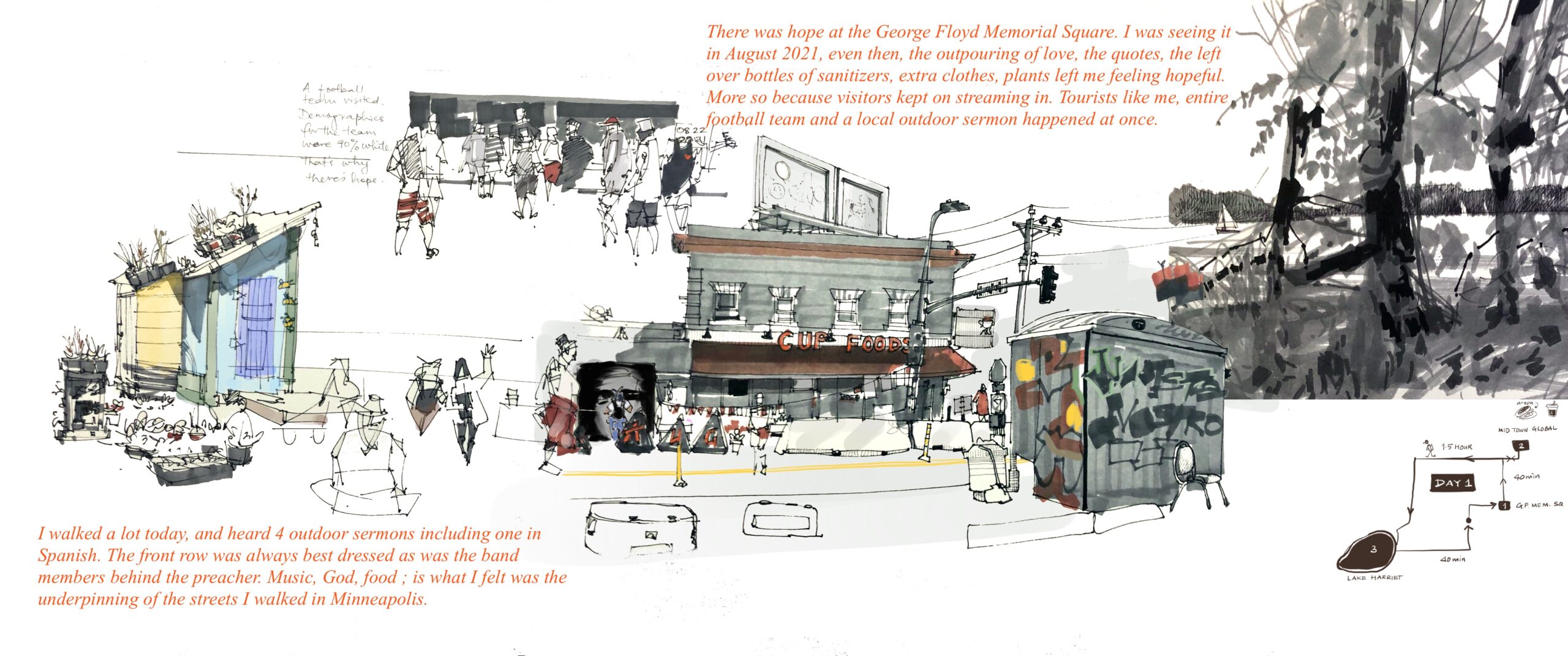 The first day, I sat on a bench under the former Speedway Gas Station roof bang across Cup Foods, seeing people shuffle in and out. A family from Chicago was visiting, the matriarch of which sat beside me and asked, "You know we were brought here by force?" "Did you vote for Trump?" she asked to only see my eyes widen. "I don't know why I asked you," she added. "I am afraid for my 20-yr old nephew," she said. I nodded in silence, acknowledging that I heard her. Then she asked me to take pictures of her family in front of the memorial. The memorial is the blue figure surrounded by circles of mementos, signs, offerings, candles, dried flowers, stuffed toys. To the left of it, is a 9 feet tall painting of Mr. Floyd with a bench in front for those wishing to take pictures before it. There are more benches around, but they have been transformed to flower planters. Thereafter the family squabbled about cigarettes and about who was going to cook. They had accents very different from mine. My accent doesn't align with the White accent either, but often, my academic English is more closely matched with the vernacular of White America. Inherently, my language, my vocabulary and habits club my personality with the other academics in the country. So far, the field of electrical engineering academics in school and work in the valley is predominantly White Americans, Asian Americans, Middle Eastern immigrants and Indian immigrants. This I thought may be the disconnect that caused such few people of Indian origin to visit the GF Square. An entire football team – predominantly White – visited the memorial, lots of out-of-town Blacks did as well, but the Indians were missing. Alongside the former Speedway gas station was a map with pins from those who had visited the square from all over the world. I put in 2 pins, one for San Jose, California and one for Pune, India in a feeble attempt to show representation.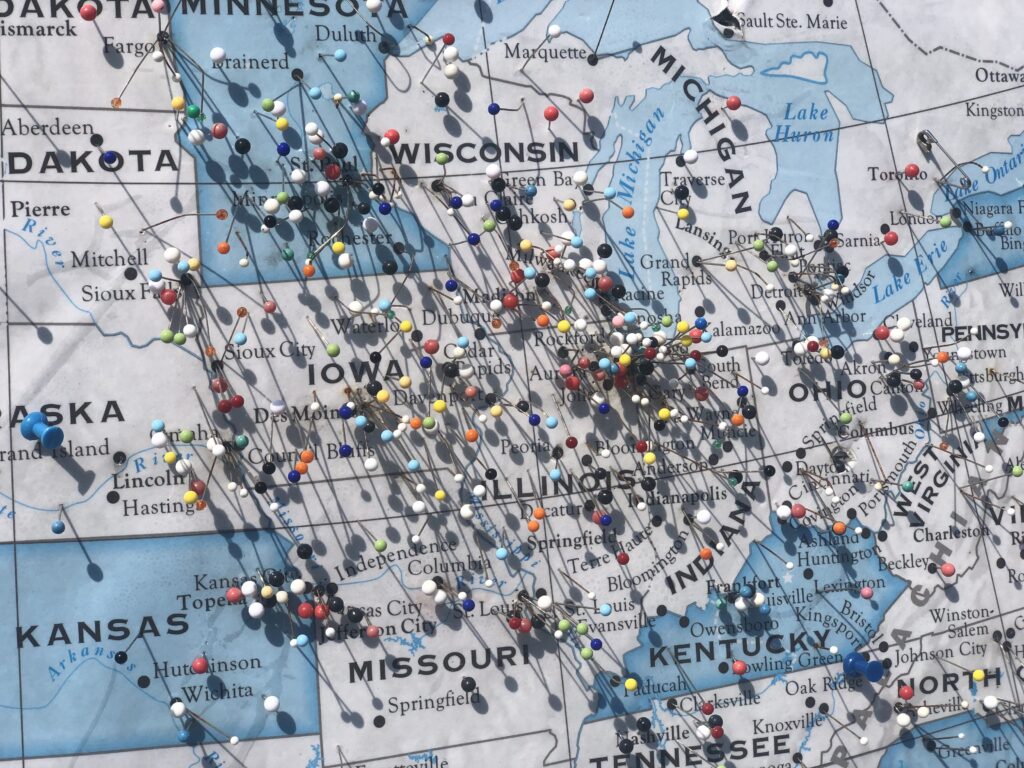 A father and son duo asked me if I was sketching. A lady asked me about my sketching. Nothing extraordinary to report happened in these conversations – but this is an exchange of curiosity. One positive exchange leads to the next – not necessarily in the same moment. The lady's question prompted me to ask her for a food recommendation – "Mid Town Global", she recommended. 40 minutes of walking, food, 70 min walk to a lake and then home – I had a perfect plan because of this exchange.
Monday, August 23
The next day, I entered the square from East side of 38th. When you walk into the square you see the patios of the houses along the streets – all very strongly supportive of the BLM movement. There are 24 demands of the movement that are printed on the asphalt right next to a BLM metal sculpture at each entry point. They are current demands. The central BLM sculpture holds an array of posters of victims of police brutality as well as of celebrities that show Black Joy, Black Pride, Black Intellect. Interspersed with these signs are flowers and plants amassed on a patchwork of mats and crates. After drawing the central sculpture, I felt comfortable walking in between the memorial and the adjacent wall of Cup Foods. I was not yet ready to look at the blue body and draw it. To get here, I had passed a bus stop that had once been a vlogging booth. Posters on it asked visitors to share their story with the poster visible in the background. I have wondered where those video blogs are. As I sat down, a gentleman who I would later come to know as Marquise Bowie (LINK), called out to me specifically and asked me to come in for coffee in his new Café – Tea Street Café (LINK, News LINK). I told him I would after my work was done.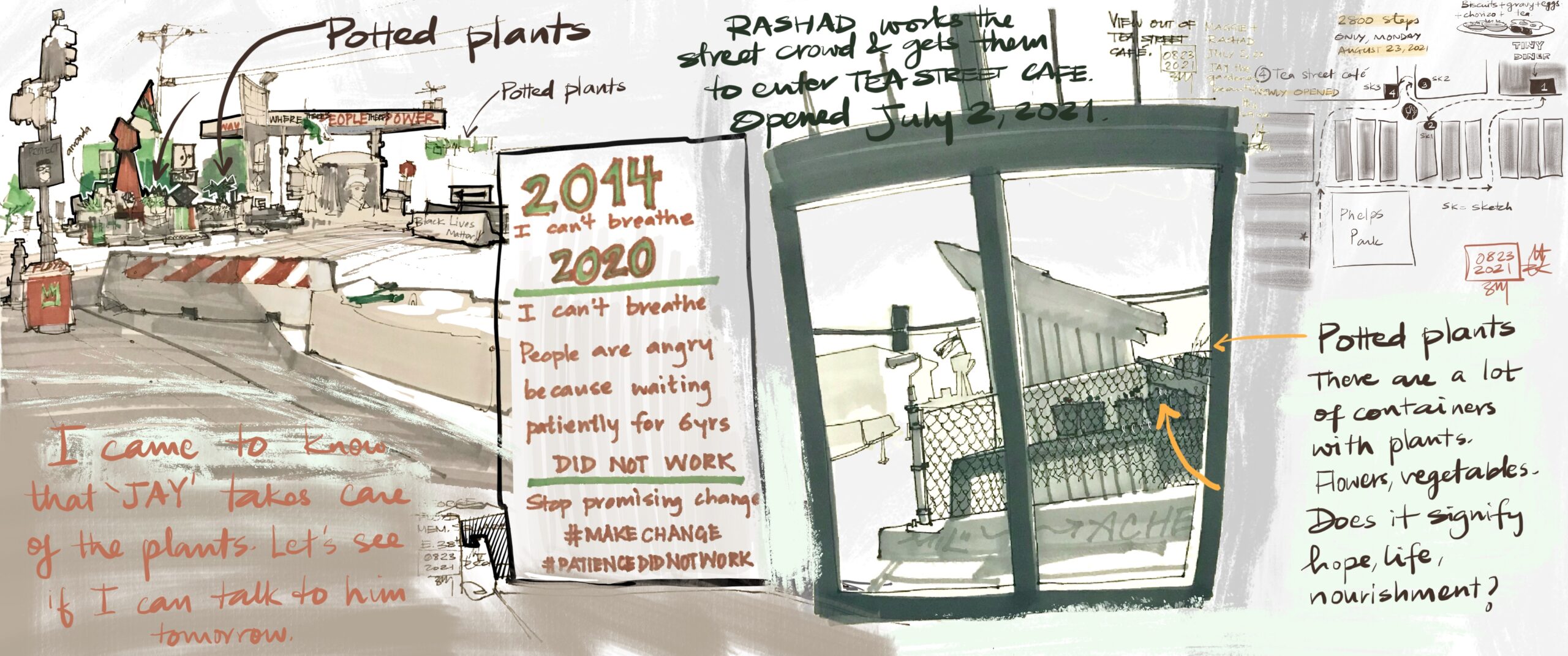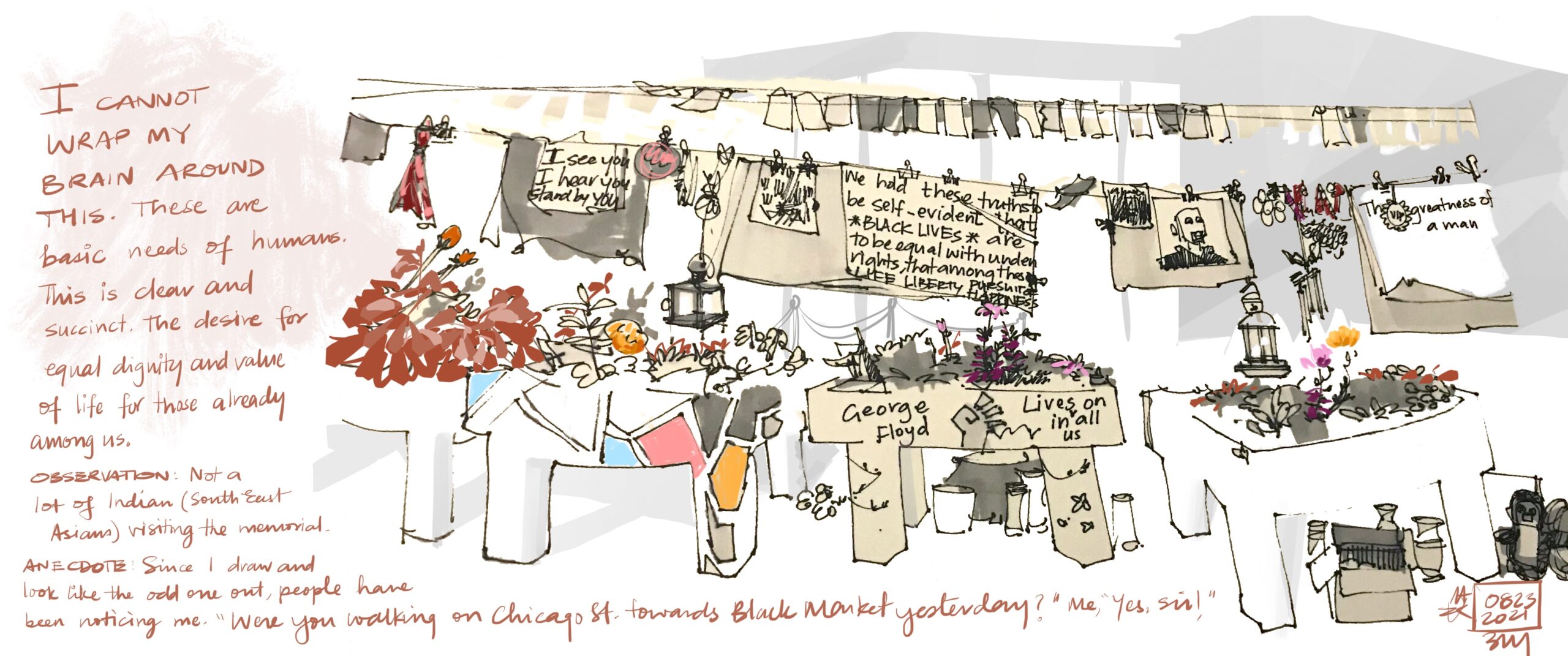 When I did go to Tea Street Café, he asked me if I was the same person who was drawing yesterday and who walked all along Chicago to get to the Black Market (near Mid Town Global). Clearly, not belonging to either dominant demographic while just sketching was novel enough for people to notice me.
Tuesday, August 24
Day 3 morning and afternoon were washed out because of rain and Urban Sketchers (LINK) work until 6pm in the evening. That break may have made me emotionally ready to document the blue body though. At the Square, I gently moved to make sure I had a good view but was not blocking the view of most others. I was always masked if I was among visitors. One lady who was visiting, was distraught. Like the moment had happened for her now. Without prompting and through her swollen and wet face, she told folks that as a child, she had grown up in the neighborhood and the murder broke the memories. There was to be no consolation – this was a place to be raw and allow people to be so too.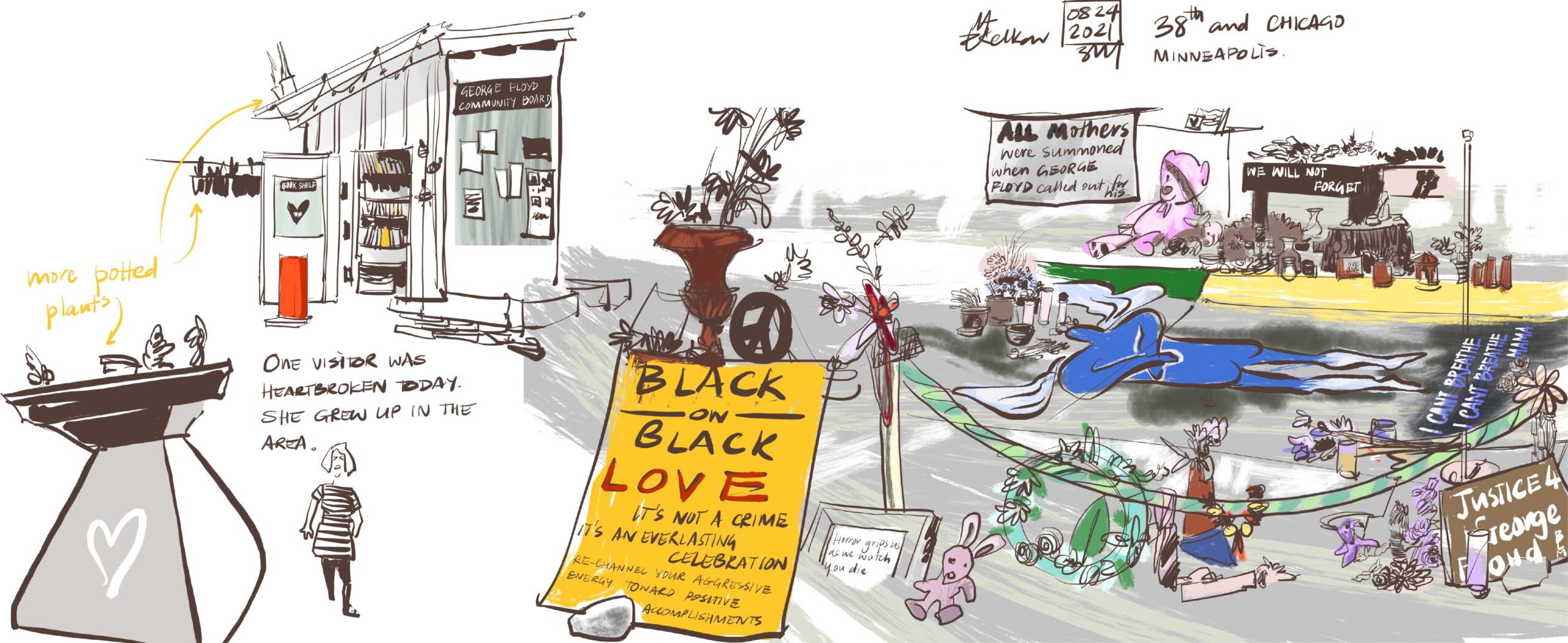 Friday, August 27
When you walk past the GFM Square and up to 37th Street, you come across a park. Part of the public park is a symbolic cemetery with plastic grave markers honoring BIPOC lives lost at the hands of the police. Despite having read news and being aware of the numbers, seeing the headstones lined up humbles, enrages, steels one.
I was sketching there at 7 am, so dog walkers and joggers passed me – they see this memorial every day. They see someone just standing and crying every day. Shaken, I returned to Tea Street Café and asked if I could ask questions of Marquise. Marquise, as I learnt, grew up in the neighborhood and is invested in the Agape Movement (LINK) – a community movement that wants to "put a neighbor back in the hood. Making it a neighborhood". He envisions the GFM Square to be a location of vocational training for the youth of Southside plus a location that delivers mental health services. He told me, "Southside and Northside are different. Some of these folks wanted to burn down Cup Foods. Cup Foods didn't murder George Floyd, as far as I am concerned. One of us stood outside and one of us stood inside the store for 2-3 days after the murder. The store owners weren't here. You don't talk the language, you don't see the markers," pointing me to a lantern with a red covering on the top. "See that, that's the gang boundary." "Are you a coffee lover [to open a café]," I asked. "No, I didn't know anything about coffee, but an opportunity to invest in the community came up and we took it", he added, pointing to co-owner Maggie Sponsel (LINK). I left him to tend to the other customers of the café as the breakfast crowd grew. If you are ever at Tea Street Café, ask for the Cheese Danish, warmed up. When Marquise wasn't talking to customers in the café, he was playfully admonishing memorial goers to visit his café and then bantering with Black visitors of the memorial if they did not support a Black founded business.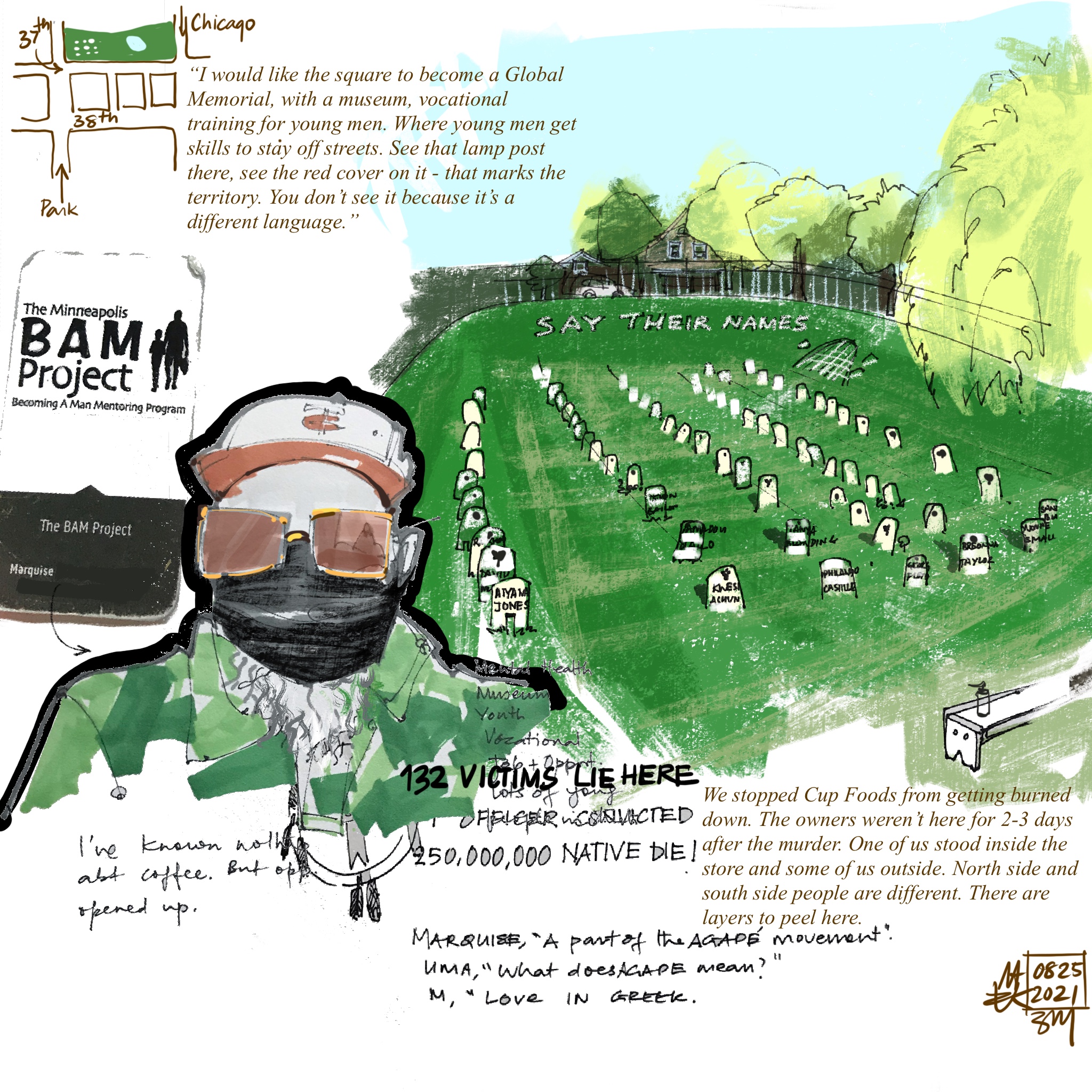 Saturday, August 28
Marquise had also told me about Mr. Jay who took care of all the plants in the square, but I hadn't been able to contact him. My ride to the airport was to arrive at 11am, so I had 9-10am time scheduled for graphic reportage. I started reportage that day at the West entrance, at the People's Coset. The People's Closet (founded Nov 2020) is a clothes rack assembled inside a bus stop on 38th St as it approaches Chicago Ave from the west. I was sure that no one was going to openly display their need for the basics and swap out clothes for the season. As I sketched it, a woman rode her bike, took off a garment from a hangar and left. And with that, my assumption was rebutted. Walking further into the square, I heard music playing – the square was getting ready for the ReImagine 38th Street – a Flea Market style event to give Black and Indigenous peoples a platform to showcase their talent, skills and culture. I saw no Mr. Jay around, so I sketched CANDO – Central Area Neighborhood Development Organization (LINK) put up their booth in the premises of the former gas station. I put on a timer on my watch when I sketch and often, I take lesser time than what I set it to. But it was to be my last day and I stretched sketching to the last minute with a hope of doing a portrait-interview of Mr. Jay. At 10:00am, as I closed my sketchbook, Mr. Jay appeared. We were in fast-forward mode now. I hurried him through an introduction and asked him if I could ask him about his work.
"Sure, I saw you drawing the other day too, why are you doing this?"
"People let their guard down when I sketch, I present no threat when I sit down on the same bench other people are sitting and in that, I collect stories. I am a collector of stories. Why are you planting these many plants? I've never seen such a memorial before!"
"Precisely! I do things that have never been done before. Living plants give hope, and the youth need to see hope so they can believe in the future," Mr. Jay [Webb] lilted this in a much more poetic way as he paced in circles and folded his arms in a Namaste at end of his sentences.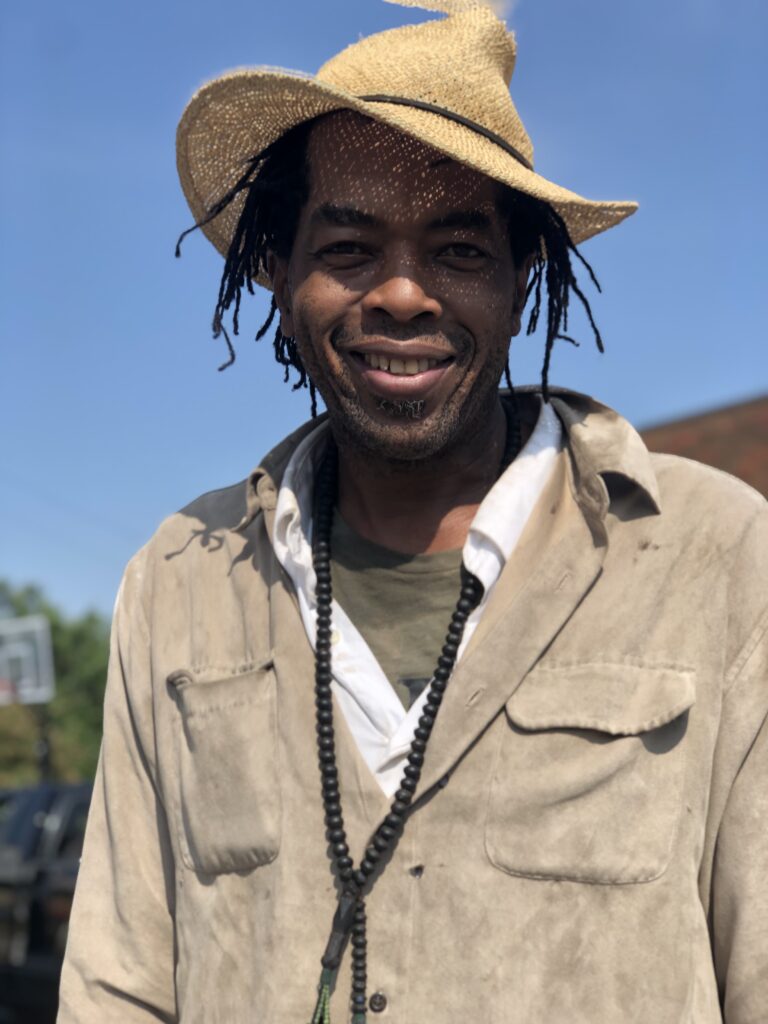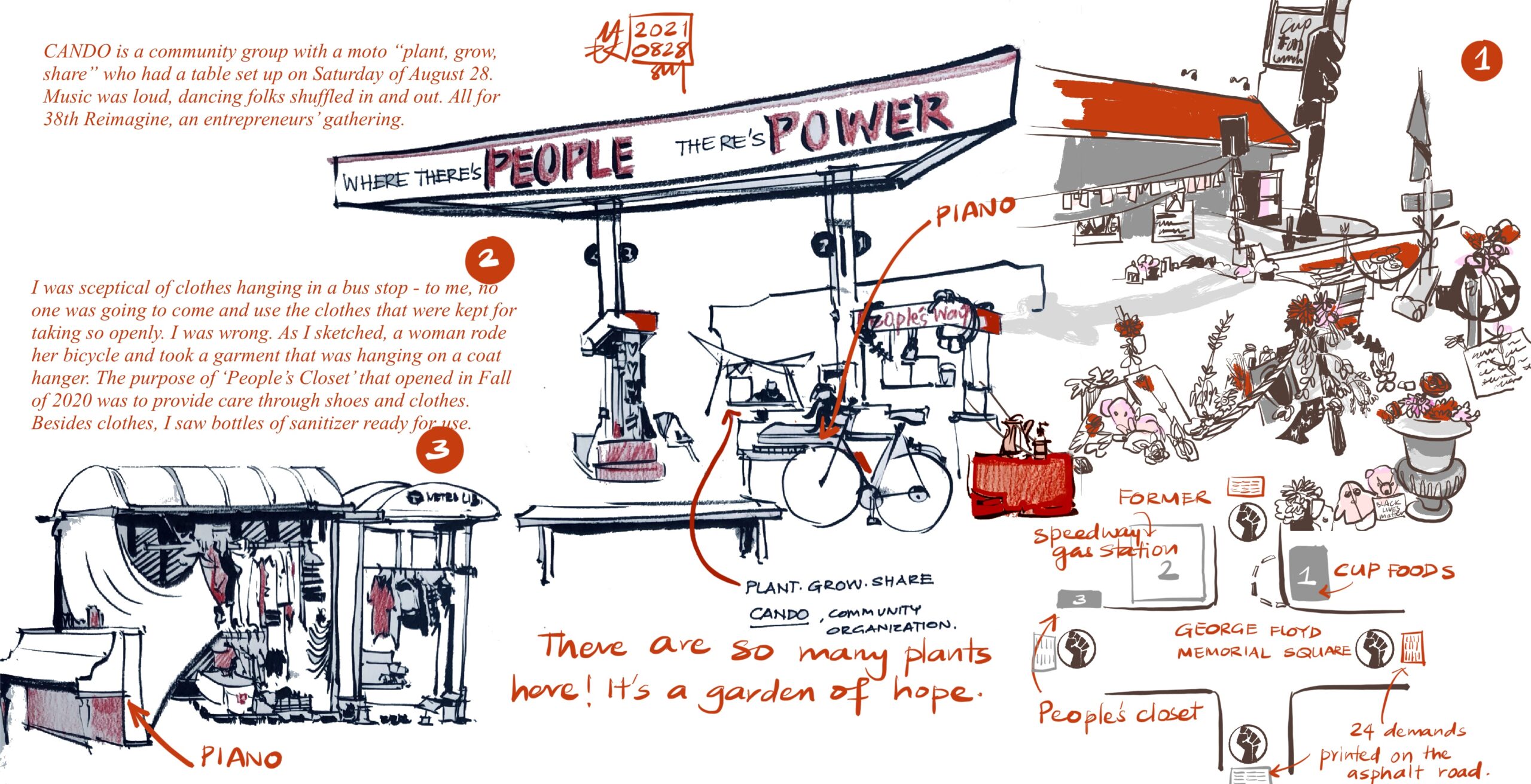 In that short conversation, he also relayed to me that he went to Archbishop Mitty (high school in San Jose). I would need video footage to convey his ebullient personality. (LINK: Google search shows his work).
I was getting squeezed on time – as I started walking back to my B'nB, I heard couple of Harleys come in and park next to the square. Each rider was White – and just hanging around, just chillin'. I needed to know what brought them here. As I passed them, I asked if I could photograph them for a graphic report I was making. My study book was in hand to show the sketches I had done previously. They posed for me – then posed again with fists held high. Bike Riders Against Police Brutality (BRAPB) provides security to Black marches – BRAPB(LINK, LINK) members told me – using their privilege for good – my words, not theirs – by riding along the marches and holding traffic back at intersections. Today's parade had been called off, but they weren't notified, hence the gathering by the roadside. As I got talking to one of the female riders, I told her I felt hope. I was filled with hope after visiting the square. She turned around to show me her shoe that bore the slogan, 'HOPE, the new 4 letter word' and then gave me her mask also emblazoned with the same message. Just like I was inserted into the GF Square abruptly on Day 1, I left the George Floyd Square with equal bluntness. "Wash it before you use it!", she reminded me as I briskly walked away. With hope.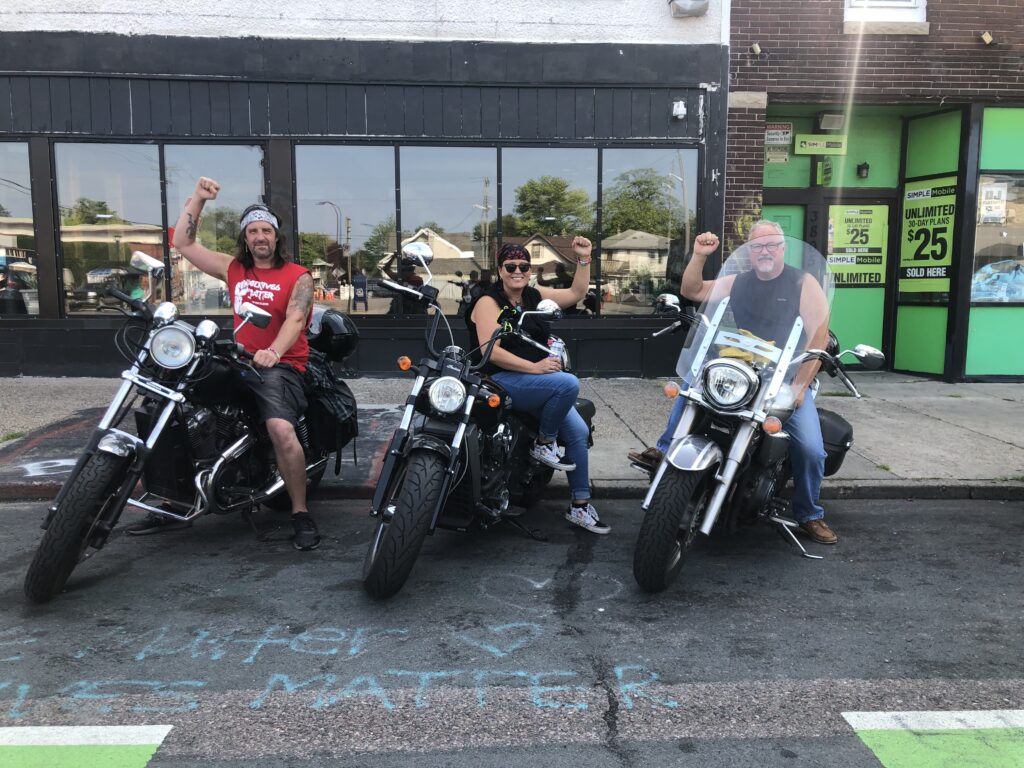 ---
---
---
Materials used for producing this article:
Pentel Brush Pen (LINK)
Stillman and Birn sketchbook (LINK)
Office Depot Permanent Marker (LINK)
Winsor and Newton Promarkers (LINK)
Koh-i-noor Progresso Woodless Pencil, Light Vermillion (LINK)
Procreate App for collaging sketches into large posters