Update: 2 seats open
-update Jan 21, 2023
I am super excited to share that Eugen Chisnicean and I will be holding a back to back watercolor workshop on the beautiful island of Mallorca, Spain in October 2023. The workshop is best for intermediate artists and advanced beginners. This is a bonanza which will repeat at their correct prices. This year's price is introductory price.
You can sign up for Week 1 or for Week 2 or for both weeks!
Week 1 CAPTURING LIGHT with Uma Kelkar (Oct 9 – Oct 13)
We will focus on Cityscapes for 2 days and Landscapes on 2 days. There will be a break in middle of the week for the National Day of Spain.
Week 2 LANGUAGE OF LANDSCAPE with Eugen Chisnicean (Oct 16 – 20)
Eugen is master of wet on wet watercolor painting with many calligraphic marks. His calm demeanor is often depicted in the paintings he makes making the most complex scenes tie together in harmony. If you have not seen this Master's work, you are missing out. Check out his webpage here – https://www.eugenchisnicean.com/ and his portfolio at https://www.eugenchisnicean.com/collections/138774
Each workshop costs $700 for instructor fees.
If both workshops are taken, the collective instruction ticket price is $1300.
Deposit required for the workshop is $500.
We are finalizing transportation to everyday painting trips and reception of first day. We estimate that the transportation and reception cost will add $200 at most. This is the cost that is flexible and will be charged closed to our workshop.
The rest of the ticket monies will be due June 2023.
Cancellation and Payment Schedule
Pay a deposit to hold your spot for $500

 

Cancellation until Dec 31, 2022, refund = $400
Cancellation until Mar 31, 2023, refund = $200
No deposit refunds after March 31, 2023

 

Workshop day trip/transportation and reception cost published May 31, 2023
Remaining ticket money due June 1, 2023
Costs not included
We have negotiated a group rate for Hotel Joan Miro that's available for limited time. Use code: KELKAR2023


https://en.hoteljoanmiro.com/

The group rate will include room, daily breakfast and one meal daily for the entire duration of the stay.

 

All travel to Mallorca and outside workshop is participant's responsibility.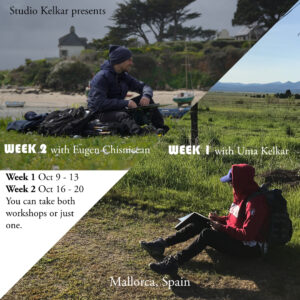 Book your spot with a $500 deposit.
When you make a deposit please make a note if you will be traveling with a non-participatory partner.
Missed the place to write that note?